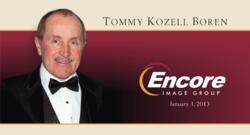 Tommy brings over 40 years of industry experience to Signtronix.
Torrance, CA (PRWEB) March 25, 2013
Signtronix, the country's leading manufacturer of signs for small business, is proud to announce the appointment of Tommy Kozell Boren as Chief Executive Office of their parent company, Encore Image Group.
Tommy began his career with Signtronix and the Encore Image Group when the company was known as Gulf Development in 1972. He brings over 40 years of experience along with a passion for the continued growth and success of Encore Image Group, Inc., while building on the deep history for quality services and products of our companies.
After an extensive search, the Board of Directors is confident Tommy will preserve the rich history of Encore Image Group Inc. as a proven leader whose expertise and dedication will maintain the integrity of our mission, expand our proven programs and ensure that our Company will succeed well into the future.
Tommy holds a Bachelor's Degree in Industrial Arts, a Masters in Industrial Engineering, and a Master of Business Administration (MBA). He has served on the Board of Directors for Encore Image Group and has been the Secretary since 2006. Tommy also serves on the Board of Advisors of his church.
Tommy lives in Torrance with his wife, Miranda. They have been married for 36 years and have three children between the ages of 27 to 32.
About Signtronix
Signtronix (http://www.signtronix.com) is the premiere sign manufacturer for small businesses across the United States. The company was founded in 1959 and has helped over half a million customers in its 50 year history. Signtronix offers many different sign products from outdoor electric signs, LED messages signs and indoor and window signs to help America's small businesses get the exposure they need to their passing public and potential customers. Signtronix is proud to be an ESOP (employee stock ownership plan) company which is owned and operated by its employees. Join Signtronix on Facebook at http://www.facebook.com/signtronix or join us on Twitter at http://www.twitter.com/signtronix.