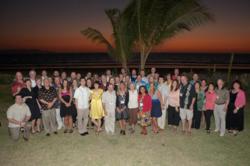 We recognize the importance of the work our sales team does for our company – for without them we would not be where we are today
Torrance, CA (PRWEB) February 28, 2013
Signtronix, the country's leading manufacturer of signs for small business, awarded its 2012 Champions with an all-expenses-paid trip to Cancun, Mexico this week. Those Signtronix sales professionals that have exceeded their goals for 2012 earned a spot on the trip.
"We recognize the importance of the work our sales team does for our company – for without them we would not be where we are today", said Tom Johnson, President of Signtronix. "For those Signtronix salespeople that really stretch their performance and exceed their sales goals we treat them to a truly incredible trip at an all-inclusive resort. This year we're at Paradissus La Perla in Cancun, Mexico. This place is truly magnificent and our people appreciate that we honor them in style."
Roger Pelton, Division Manager of Signtronix said, "These trips are so wonderful and at such fantastic locations that our people look forward to them year after year. They can't imagine NOT being there, so they really work hard during the year to make the trip. It's a win-win for everyone."
"When I'm walking around this beautiful resort I run into Signtronix people everywhere. I love having our big family down here together and enjoying this trip together. It really creates a bond between all of us like I never expected. People build friendships here and then call each other throughout the rest of the year to give support to make sure they make the trip the next year", said Tom Johnson Jr., Director of Marketing for Signtronix.
"This week goes by too fast," says Johnson, "but we're already planning our trip for next year. We're heading to Puerta Vallarta, Mexico at the new Hard Rock Hotel. Now that's going to top them all!"
About Signtronix
Signtronix (http://www.signtronix.com) is the premiere sign manufacturer for small businesses across the United States. The company was founded in 1959 and has helped over half a million customers in its 50 year history. Signtronix offers many different sign products from outdoor electric signs, LED messages signs and indoor and window signs to help America's small businesses get the exposure they need to their passing public and potential customers. Signtronix is proud to be an ESOP (employee stock ownership plan) company which is owned and operated by its employees. Join Signtronix on Facebook at http://www.facebook.com/signtronix or join us on Twitter at http://www.twitter.com/signtronix.