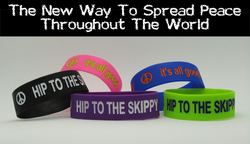 Get your Hip To The Skippy bracelet today. Spread the peace and help stop hunger.
West Bloomfield, MI (PRWEB) November 17, 2010
The creators of CoolZips and Hannah's Cool World have launched a new product line called Hip To The Skippy - it's all good ...
Hip To The Skippy, a family saying created by Lauren Altman, is another way to say peace and all is good. Over the years family and friends have used the saying leading to a new product line of wide band silicone bracelets stamped with the humorous saying.
With Hip To The Skippy having a meaning of peace and goodness, Lauren and Rick Altman, and their daughter Hannah, decided to put things into motion to spread peace throughout the world.
One dollar of each bracelet sale benefits rock Can roll. The non-profit is a hunger relief organization that collaborates with rock concerts (such as Bret Michaels, Maroon 5, Barenaked Ladies, Train, Crosby Stills and Nash, the Charlie Daniels Band), schools, corporations, and private individuals to collect healthy and nutritious non-perishable food for distribution to agencies throughout the U.S. and into the hands of children, seniors, and families who live with hunger and poverty.
The bracelets are sold in both adult and youth sizes at $4.99 each with a variety of colors to choose from. They can be purchased at http://www.HipToTheSkippy.com and http://www.CoolZips.com. New bracelets will soon be released in a variety of university colors as well as a Hip To The Skippy t-shirt line.
Hip To The Skippy is the perfect gift for kids and adults to help fight hunger in the U.S. The bracelets are also available at a wholesale rate for groups wanting to do a fundraiser to benefit rock Can roll.
Ten year old Hannah Altman is the CEO of Hannah's Cool World, a website that sells cool toys for kids of all ages. Hannah has created a mini empire selling all the latest collectibles on her two year old internet website. Products include the popular Japanese Erasers, Smencils, Shaped Rubber Bandz, Jasper Pals, Little RasCools, and oodles of other must have kid's collectibles. The company has over 10,000 registered customers and 2010 sales are projected to reach over $500,000.
Hannah recently launched a new product called Jasper Pals - A Friend To Share Your Worries. Jasper Pals are worry dolls for kids available in 8 different animal styles. Each wooden animal is approximately one inch tall and comes packaged in a brown suede drawstring bag.
Not only does Hannah's Cool World deliver the goods to kids throughout the U.S. and abroad, Hannah's Cool World gives back. On a regular basis monetary donations are made to the National Wildlife Federation and product donations are made to a variety of charities, ingredients for the "good karma" that defines Hannah's Cool World, CoolZips, and Hip To The Skippy.
For more information contact Lauren Altman at 248-410-0009 or Lauren(at)CoolZips(dot)com.
###