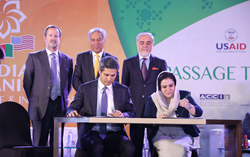 HONG KONG (PRWEB) September 19, 2018
Afghanistan-registered Silk Road Mining signed a large scale mineral development contract with the Ministry of Mines and Petroleum of the Islamic Republic of Afghanistan. The contract covers the exploration and subsequent exploitation of a large copper deposit known as Shaida, located in Herat Province. This is the first large scale mining contract signed by the Government of Afghanistan in the last 10 years.
Silk Road had previously been awarded the right to enter into a mining contract for Shaida through a competitive tender process initiated by the Ministry several years ago, which was supported by a range of international donor organizations.
Commenting on the signing
Acting Minister of Mines and Petroleum Ms Nargis Nehan commented, "Afghanistan is committed to transparent and accountable development of Extractive Sector and creating enabling environment for investors. I am very pleased that we are signing Shaida project after ensuring transparency of the bidding process and commitment of the investor. Projects such as Shaida will not only generate revenue for the government, it will also create jobs and help us moving towards self reliance."
Silk Road's Chairman Sam Sidiqi said, "We are delighted to be the first company to officially sign a large scale mining contract with the government and become the cornerstone of the mining sector in the country. We look forward to other mining and exploration companies joining Silk Road to develop robust and sustainable mining in Afghanistan for the benefit of all its people."
"Silk Road is eager to begin the development of the Shaida mineral property," said Silk Road CEO Christopher Logan, "We are committed to best practices in exploration, sustainable mining, local community engagement, and training of local Afghan staff."
In addition, the co-founders of Silk Road Mining, Sam Sidiqi and Christopher Logan have pledged that 20% of their personal equity ownership in Silk Road will be reinvested in social enterprises and the development of the mining sector in Afghanistan.
Announcement at industry conference
The Shaida contract was announced by Dr. Humayon Qayoumi, Acting Minister of Finance and Chief Adviser on Infrastructure and Technology to the President of Afghanistan, signed by Ms Nargis Nehan, Acting Minister of Mines and Petroleum, and presented alongside Dr. Abdullah Abdullah, Chief Executive of Afghanistan.
The announcement has was made at the Passage to Prosperity: India-Afghanistan International Trade and Investment Show in Mumbai, sponsored by the United States Agency for International Development (USAID).
Local and regional geology
The Shaida property in Herat Province has been classified as a highly prospective copper porphyry deposit. Originally explored by Russian geologists in the early 1970's, the property has been explored more recently by the Afghanistan Geological Survery and the United States Geological Survey. Shaida was selected as the most prospective copper porphyry deposit and one of the four most prospective gold or base metal deposits in Afghanistan for the government's mineral tender process.
At a regional level, Afghanistan sits on the Tethyan Magmatic Arc, which spans from Eastern Europe through into Southeast Asia. World class copper porphyry deposits in this arc include Grasberg in Indonesia, OkTedi in Papua New Guinea on the eastern end, with Bor in Serbia and Rosia Poieni in Romania on the western end. The Central Tethyan region, which includes the underdeveloped Afghanistan portion, is home to world class copper deposits SarCheshmeh in Iran, and Reko Diq in Pakistan.
Legal advisors
McCarthy Tétrault LLP is acting as legal counsel to Silk Road Mining. Hogan Lovells US LLP and DLA Piper Australia are acting as legal counsel to the Government of Afghanistan.