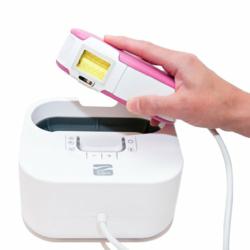 San Diego, CA (PRWEB) November 30, 2012
With research showing that the hair removal market reached $2.1 billion price tag in the US in 2011, and a similar scale in the UK, the quest for a hair-free face and body is big business. New research today looks at the Silk'n SensEpil at-home pulsed light hair removal system, and asks whether it really delivers smooth, long-lasting hair reduction.
The Silk'n SensEpil is a permanent hair reduction system that uses pulsed light to target hair and dramatically reduce regrowth. It uses the principals of photothermolysis, where optical energy is used to restrict hair growth. The hair absorbs the light and turns it into heat, which disables the hair shaft's ability to grow back.
Product Reviewer Lisa King believes that the success of Silk'n SensEpil lies in its ability to deliver long-term results that take away the inconvenience of shaving.
"Assuming that the average woman shaves twice a week and takes ten minutes each time, she could be spending over a month of her life with a razor in her hand," said King. "Similarly for men that spend more time removing hair from their necks, bodies or hands; hair removal is a nuisance for us all."
The pulsed light delivered by the Silk'n SensEpil can be used to remove hair from anywhere on the body or on the face, below the cheek line. It is suitable for anyone with a fair to medium skin tone and medium to dark hair, and takes around four sessions to start seeing results.
"It's not as quick as using a razor or epilator, for example," continues King, "but after just a few sessions you can start to see hairless patches forming, with little or no regrowth. After 6 to 8 sessions, the target area is usually hair-free and the user switches to 'maintenance mode'. Any regrowth is very fine and can be easily zapped as and when it appears."
Light- and laser-based hair removal and reduction has been used for over 15 years all over the world, and has been proven as a safe and effective way to achieve long-term hair removal. Not only that, but the Silk'n SensEpil is FDA-cleared and has been endorsed in the press and on programs like The Doctors.
"I always wanted to try light or laser hair removal but found the price prohibitive," concluded King. "Salon sessions can run into thousands of dollars, and at-home systems retailed at around $700 to $1,000. After seeing the product reviews of Silk'n SensEpil, I really wanted to test the system and with a current web offer of $400 with a coupon, it was the perfect time. I'm so glad that I did, I've finally got rid of the stray facial hairs that have plagued me throughout my adult years, and will be using it on my legs, arms and even my husband if he lets me!"
Please visit the Official Silk'n Website via the link below:
Official Silk'n SensEpil Website
To access special offers and coupons for Silk'n please visit:
http://www.awesomeallday.com/silkn-coupon/
To access the full review please visit:
http://www.awesomeallday.com/silkn-sensepil-review/
About AwesomeAllDay.com
Based out of San Diego, California, AwesomeAllDay.com is a new product review website covering a wide range of products from Home and Garden to Health and Beauty. The main focus of the site is to provide consumers with well-researched product reviews. Disclaimer: AwesomeAllDay does receive compensation from companies whose products they review, though it does not affect the opinions expressed by their product review specialists. Each product is researched thoroughly and given high marks only if it's deserved.