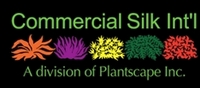 Minneapolis, MN (PRWEB) August 19, 2008
Green and artificial plants are a great way to utilize and enhance office space. Scientific studies have shown that plants in the workplace improve worker satisfaction and productivity. Plants can also be a very versatile design tool. Deciding whether to use a natural or silk plant in your design depends on the particular building and personal preference. Using the correct type of plant is important, and both have their benefits.
Green plants should be considered when trying to ease a stressful environment. Live green plants can improve air quality by reducing airborne molds by 50-60%. The cleaner, renewed air means fewer health issues which increases office attendance. The plants not only purify the air, they correct simple humidity issues thereby making the office temperature conditions more comfortable. Creating a dynamic environment is made simple with natural plants as live green plants constantly grow and shed leaves. Buying a natural plant has less of an initial cost than purchasing silk plants. Finally, one of the most popular reasons for using green plants over artificial is their authenticity.
In some buildings, silk plants may be more appropriate than going the natural route. For example, artificial plants can be placed virtually anywhere. Real plants can't grow in dark or shaded areas; this is when the fake plant would be a better option. Silk plants can be placed up higher on ledges or railings, where watering is dangerous or near impossible. A light dusting is all silk trees and plants really need. Using low maintenance plants make things simple especially when used in limited access buildings where providing horticultural plant service would be difficult. Artificial plants are also practical in drafty areas. Load bearing constraints are not an issue with faux plants. Creating the theme of a room is made simple with the use of fake plants. The initial cost of silk plants is higher, but can turn out to be the better deal.
Plants are a great way to utilize office space; they play a huge role in creating a natural environment. Both artificial and natural green plants create space and frame views in their own way. They also provide scale and help direct traffic as well. Natural and artificial plants also complement one-another in the workplace. Plants work in almost any setting, and choosing the correct type is simple with the proper information.
About Commercial Silk Int'l
We are a leading manufacturer of artificial trees, plants and foliages exclusively for commercial projects. We specialize in commercial grade, large artificial trees, that are hand crafted and built to each client's specifications. All of our wholesale silk plants and trees are available with fire retardant foliage. In addition to indoor artificial trees, we also manufacture a line of outdoor artificial plants. Our outdoor artificial trees are constructed using artificial foliage with UV blocking chemicals. From a boxwood topiary hedge to a large outdoor cedar tree, our outdoor artificial plants can be used for a variety of applications. So when your project requires a single artificial topiary or a silk palm tree, select the Company that has built and had product installed in over 50 countries to help make your project a success.
For any additional information on our products or services please visit our website at http://www.commercialsilk.com or contact us at 952-934-7666.
# # #