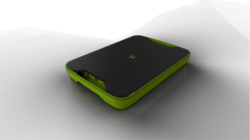 "When Peter told me about his idea, I jumped all over it; you don't have to be a chef to appreciate FLOW."
Charlotte, NC (PRWEB) September 05, 2012
Simpleware's first product, FLOW, promises to revolutionize the cutting board industry by reinventing the way you cut juicy meats and wet vegetables.
The FLOW is an innovative, re-imagination of the often used but underappreciated cutting board. Their patented design allows the juices from meat, vegetables or fruit to flow through the cutting surface into a tray, forever solving the messy countertop problems caused by juicy meats and wet vegetables, while helping you collect drippings for sauces and gravies. The FLOW perforated cutting board also reduces the health risks of slicing raw meat by trapping juices in the tray that would otherwise spill on the counter.
"I was grilling one day and dreaded putting the juicy steak on a traditional cutting board because I knew it would drip all over the counter." said Simpleware Co-founder Peter Hauser. "That's when I came upon the idea of a perforated cutting board that would allow the drippings to pass right through into a tray and immediately got to work perfecting the product."
The cutting surface is designed to snap into the tray creating a strong, stable cutting surface, while the non-skid rubber feet keep it from sliding on your countertop. FLOW has a streamlined, low-profile design that allows for easy cleanup and storage. The use of high-quality FDA approved cutting board material prevents the growth of bacteria and ensures durability, ease-of-use and dishwasher safe cleaning. Its modern styling is right at home in any kitchen and is sure to be a conversation piece.
Because of his commitments delivering other high-technology products, Mr. Hauser has partnered with a long-term business associate and friend Ola Ahlmen to bring this product to market.
"I have a successful track record of bringing popular products to market," said Co-founder Ola Ahlmen. "When Peter told me about his idea, I jumped all over it; you don't have to be a chef to appreciate FLOW."
Simpleware has partnered with Internet marketing firm Command Partners to assist with all of their online initiatives.
"I am always eager to work with innovative products and passionate entrepreneurs," said Command Partners' Managing Partner Amish Shah. "This has the type of mass appeal that it takes to get a product to a large market."
To back this project, visit bit.ly/FlowKS.