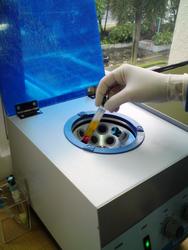 Platelets can also only survive for seven to 10 days, so the
Singapore (PRWEB) April 14, 2009
It was first used by dental surgeons about 15 years ago to enhance wound healing of bone grafts during dental reconstructive surgery. Platelet Rich Plasma (PRP) therapy is today being applied in Singapore as an alternative to the conventional mode of treating a wide variety of sports injuries and degenerative conditions in muscles, tendons and joints. The results augur well for professional and weekend sportspersons alike.
"With conventional treatment, a calf muscle tear for instance, would normally take about six weeks to heal. However, with PRP, it would only take half the time. In fact, ultrasonic evidence of healing was apparent as early as seven to 10 days after the injection was administered. Normally, this would have taken between two to three weeks," revealed Dr Patrick Goh, Consultant Sports Physician at SportsMed Central, a clinic that runs under the Healthway Medical Group umbrella.
When injury occurs to musculoskeletal tissues, the body's healing mechanism triggers a blood clot where platelets accumulate. Central to the body's normal healing process, the platelets then release growth factors and signalling molecules (cytokines) to initiate repair. These growth factors attract stem cells to the injured area, stimulate DNA and cell synthesis and promote many activities associated with regeneration and tissue healing.
PRP therapy involves the isolation and concentration (two to six times higher) of the patient's own blood platelets before injecting them into the site of the injury. With a rich environment of vital growth factors created here, the healing process is accelerated.
During the 30-minute minimally-invasive outpatient procedure, about 8 ml of blood is drawn under sterile conditions, processed in a centrifuge before it is injected back into the site of injury. This is usually done under ultrasound guidance to offer maximum accuracy of the injection by a sports physician or orthopaedic surgeon. Local anaesthetic may be applied prior to the PRP injection. The entire process is relatively painless and patients are usually able to walk and perform normal daily activities after the injection.
Besides muscle tears or strains, other conditions which can benefit from PRP therapy include tendon tears or strains, tendon inflammation or degeneration (including tennis elbow and Achilles tendonitis), ligament tears and joint cartilage 'wear and tear' (osteoarthritis).
Singapore became the first country in Southeast Asia to introduce the treatment about a year ago. To date, Dr Goh has treated over 90 patients with PRP at his clinic located at the renowned Gleneagles Medical Centre in Singapore.
As regards to safety, Dr Goh assured, "PRP is low risk since it only involves the injection of the patient's own blood products. There is hence no chance of rejection or acquiring infections such as hepatitis or AIDS. For the doctor, it offers a relatively quick procedure to perform."
Short-term side-effects include soreness and stiffness at the injected site, while over the longer term, mild stiffening and scarring may occur but usually no worse than what is expected with normal healing.
Dr Goh emphasised, "Platelets can also only survive for seven to 10 days, so the "boost" towards regeneration given by the PRP is not ongoing, unlike the potentially more permanent nature of stem cell treatments. However, in many instances, this boost is all that is needed for injuries to heal quicker."
About Healthway Medical Group (http://www.healthwaymedical.com)
With more than 15 years in the healthcare industry, it is one of the largest integrated healthcare providers based in Singapore. The group offers medical services encompassing primary healthcare, aesthetics, dentistry and specialist medical services which cover a wide range of medical specialties. Staying at the forefront of medical advances, the group prides itself in delivering effective and efficient medical care with a personal touch.
About SingaporeMedicine (http://www.singaporemedicine.com)
Launched in 2003, SingaporeMedicine is a multi-agency government-industry partnership committed to strengthening Singapore's position as Asia's leading medical hub and international health care destination. Led by the Ministry of Health of Singapore, SingaporeMedicine is supported by three government agencies: the Economic Development Board, which develops industry capabilities, the International Enterprise Singapore, which fosters regionalism by Singapore-based health care players, and the Singapore Tourism Board, which markets Singapore as a healthcare destination to inbound international patients and develops associated people-oriented services.
###