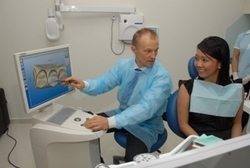 On average, dental treatment in Singapore is about two to three times cheaper compared to the United States. This may be due to higher equipment or operational costs and significantly higher taxes in the US.
Singapore (PRWEB) April 12, 2010
Dentistry in Singapore is making a big push into the world of sophisticated technology the same way that other disciplines in medicine did a decade ago.
Groundbreaking advances in diagnostic dentistry have made dental treatments more predictable, cutting down on patient risk and down time.
Common dental procedures like crowning, inlay and onlay, hitherto long-drawn affairs, can now be done in a single session by using Chairside Economical Restoration of Esthetic Ceramics (CEREC), according to Dr Chong Kai Chuan, Clinical Director of Q & M Dental Institute Pte Ltd and Q & M Dental Centre.
Advanced dental technologies
CEREC is a dental restoration product that allows dental practitioners to fabricate an indirect ceramic dental restoration using computer assisted technologies, including Computer Aided Design(CAD) and Computer Aided Manufacturing (CAM).
"Previously, most dental restorative methods require multiple visits to the dentist. Now, with the latest technology, we are able to design, mill and provide the prosthesis on the same day after a scan is made," says Dr Chong.
Comparing "then to now", Dr Chong elaborates, "Patients used to come in for the first visit, get injections of anaesthesia, have their teeth prepared, impressions taken, and temporary restorations put on their teeth. They then come back for a second appointment a couple of weeks later, get more injections, have the temporary teeth pried off, and have permanent restorations put on." Recent developments in cone beam technology - an imaging solution - have also taken dental diagnostics and treatment capabilities to new heights.
"We can now take scans that provide highest resolution with the lowest radiation dose. A 3D image of the jaw, for example, can now be scanned with very low radiation of less than 30 microsieverts, compared to a conventional CT scan with radiation of up to 2,000 microsieverts," says Dr Chong.
All of these translate to a quicker, easier and safer session for a dental patient. But that's not all. Here's the best part: High-tech dental treatments in Singapore is far more affordable compared to other developed countries.
Singapore's comparative advantage
"On average, dental treatment in Singapore is about two to three times cheaper compared to the United States. This may be due to higher equipment or operational costs and significantly higher taxes in the US. The cost of licenses and professional insurances is also much higher there."
Lower costs, however, does not mean lower standards of care.
"Singapore possesses a reputation for clinical excellence, with highly trained medical and dental workforce, a well regulated healthcare environment and the availability of the latest technology," says Dr Chong.
It is for these reasons that foreigners such as Meena, a homemaker from New Delhi, picked Singapore for her dental treatment. The 63-year-old had previously undergone chemotherapy for a tumour on the side of her jaw, which left her unable to speak or chew properly.
Specialist dental treatments
She finally approached Dr Ansgar Cheng, a Prosthodontist at Specialist Dental Group, who is also well-known in the specialized area of maxillofacial prosthetics.
Meena only had five functional teeth in her upper jaw. The rest, many of which had root canals done on them, were badly decayed as a result of the cancer therapy. Moreover, as a result of her surgical treatment, the roof of her mouth was 80 per cent gone, leading to another major concern.
Meena had five teeth reinforced by titanium posts, three root canals redone in the lower jaw and 10 Zirconia crowns for protection and good aesthetic effect. She also had a palatal obturator fitted which covered the surgical defect in the roof of her mouth that leads to the nasal cavity.
With her oral function restored, Meena had nothing but praise for her dentist's professionalism.
"I was apprehensive when I first met Dr Cheng but his calm and patient demeanor put me at ease very quickly. By the second day, I had put my full trust in him," she says delightedly.
About Q & M Dental (Singapore) Group Limited
Q & M Dental Institute Pte Ltd and Q & M Dental Centre are subsidiaries of Q & M Dental Group (Singapore) Ltd, Singapore's largest private dental healthcare group. Q & M was first established in November 1996 and successfully listed on the Main Board of Singapore Stock Exchange on 26 November 2009. Currently it is the only wholly dental entity listed in Singapore with a dedicated pool of over 110 dental surgeons, 30 of whom with specialised training in various disciplines of dentistry.
For more information, visit http://www.QandMDental.com.sg
About Specialist Dental Group
Specialist Dental Group has been established at the Mount Elizabeth Medical Centre in Singapore since 1979. It is one of the largest multi-speciality dental groups in Singapore. The internationally trained/qualified specialists at the clinic are opinion leaders in their respective specialty areas. They regularly teach, speak and publish in clinical journals. Specialist Dental Group's founder, Dr Henry Lee, placed the first dental implants in Singapore over 25 years ago.
For more information, visit "http://www.specialistdentalgroup.com"
About The SingaporeMedicine Initiative
Launched in 2003, SingaporeMedicine is a multi-agency government-industry partnership committed to strengthening Singapore's position as Asia's leading medical hub, and promoting Singapore as a world-class destination for advanced patient care.
For more information on SingaporeMedicine, please visit "http://www.singaporemedicine.com"
# # #