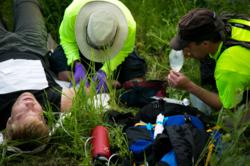 I slapped him lightly and called his name. His eyes popped open and stared into mine, but he wasn't really looking at me. He wasn't really seeing anything.
Alpine, Utah (PRWEB) June 27, 2012
Search and Rescue crews were called-in Sunday after famed blogger Dan Pearce of the blog Single Dad Laughing became immobilized and delirious during a strenuous hike to the top of a mountain near his Utah home.
The blogger was attempting to hike the rigorous Box Elder Pass when he and two friends deviated mistakenly onto an unmarked trail. The new trail took them six miles to the summit of Alpine's East Mountain, more than 3,200 feet above the trailhead. East Mountain is rarely hiked and is known for its unfriendly terrain.
After resting at the summit, Pearce and friends began searching for the continued trail. Almost immediately, Pearce's major leg muscles began suffering from heat cramps which made him unable to walk. The group's water supply was used up as they had been expecting a much shorter hike.
After multiple attempts to massage and stretch the spasming legs, his condition worsened due to dehydration and heat exhaustion. Pearce tried unsuccessfully to walk through the spasms which caused him to collapse and go into shock. He became delusional and unresponsive, at which point his friends put in the call to Search and Rescue.
"I slapped him lightly and called his name. His eyes popped open and stared into mine, but he wasn't really looking at me. He wasn't really seeing anything." Kelsey Worner, his hiking companion said of the moment.
Search and Rescue informed the group that they were sending responders immediately and would decide what to do after they had arrived at the downed hiker. Nearly three hours passed before first responder David Lynton was able to reach the summit where Pearce was found lying in the shade. In a strange twist of events, Lynton was one of Pearce's Boy Scout Leaders twenty years earlier. "That was the hardest hike I have ever done, and several other Search and Rescue members commented on its difficulty," Lynton said of the trail they had to hike to reach Pearce.
At the time Search and Rescue arrived, Pearce was coherent and responsive. Several more responders joined Lynton at the scene and began running IV lines into both of Pearce's arms. Pearce's body began shaking and he became unresponsive once more. The lead medical responder made immediate arrangements for a helicopter extraction and reported seizure-like activity to emergency crews below, an early warning sign of possible heat stroke.
A Life Flight helicopter arrived within 30 minutes but was unable to land due to the hazardous mountaintop terrain. A standby helicopter located 70 miles away was called-in which would attempt to pull the victim out with a rescue cable and wench. Time became a major concern for rescue workers as daylight was fading and a helicopter rescue in the dark would not be possible in Pearce's location.
Only minutes before the air rescue would have to be called off, the second Life Flight helicopter arrived on the scene (see video) and lowered Life Flight crewman Rick Black to the ground. Black (who coincidentally once lived next door to Pearce) rushed to harness the blogger and secure him to the helicopter's cable system.
Black and Pearce were hooked-in and hoisted into the air together beneath the helicopter which then flew the pair six miles to the trailhead parking where several emergency workers were waiting to administer medical care to Pearce. He was later sent to American Fork hospital by ambulance for further monitoring and testing.
Black later called the incident "a flawless rescue off of Box Elder" as he congratulated his fellow emergency responders.
"It could have been a lot worse," a drained Pearce later said of his experience. "It happened at the summit which was a big blessing. Had it happened any lower, the helicopter couldn't have made it in and we wouldn't have had cell service. I would have been in real serious trouble then."
When asked about the rescue efforts, Pearce said, "I have never been as overwhelmed as I was by the committed concern of strangers and loved ones while on that mountain. Nobody cared how I got into that predicament, they only cared about safely getting me out of it. I grew a deep love for a lot of complete strangers that day. And I learned a lot about what it means to be selfless."
When asked why he hadn't yet blogged about his experience (apart from a small note on his blog promising he would), Pearce was quick to reply, "It's going to take a little time to process everything I've learned from this. Oh, I'll definitely blog about it, and I'll share Kelsey's experience, too if she'll let me. Heaven knows it was terrifying for her. I just need to take my kid camping, relax, and recoup before I do. I think that's understandable."
When asked what he could have done differently, he replied, "I can think of a hundred things I could have done better. I felt well-prepared going into it. I hike a lot, just about every week. But sometimes things just happen that are out of your control."
He then added, "I can't wait to get back up there. I'm going to conquer that mountain. I'm not going to let it conquer me."
Pearce uses the pen name "Single Dad Laughing" and according to his website (danoah.com) has more than 130,000 subscribed followers. He started his blog less than two years ago and has become well-known for his intensely worded and controversial opinion pieces as well as his humorous musings about life and fatherhood.
Photos courtesy of Pearce. Video courtesy of Lynton via Pearce.