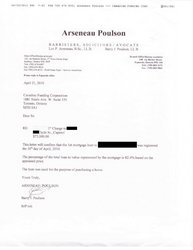 These are hard working people who are going through tough times but it doesn't mean they should own a home even when the banks said no
(PRWEB) June 4, 2010
Moishe Alexander of Canadian Funding Corp along with their Co-lenders funds a 1st mortgage to a Sudbury, Ontario couple with only one income after one of the purchasers lost their job. Even though Sudbury, Ontario is now experiencing a protracted strike at the former Inco Mines. Moishe Alexander said "these are hard working people who are going through tough times but it doesn't mean they should own a home even when the banks said no".
Moishe Alexander again demonstrates his compassion for people and his long term vision approach and sensitivity to mortgage lending, Moishe Alexander understands that even though these rough economic times are challenging the average working person or persons should still be entitled to own their own home.
About Moishe Alexander
Moishe Alexander uses his financial experience to save private homes and promote residential development. A passionate corporate leader, Moishe Alexander has flourished in his role as President of the Canadian Funding Corporation, which provides finance and loan services for an impressive range of clients.
Since joining the firm in 2005, Moishe Alexander has proven his skills as a financial negotiator, team builder, and resource manager. Alexander has expertly managed each team members' strengths and weaknesses, and his skillful leadership has helped his company close several of its more difficult deals.
Over the past three years, Moishe Alexander has led Canadian Funding Corporation in a series of dramatic deals that benefited all parties involved. Recently, Alexander helped a family get back into their home by funding almost 95% of their second mortgage. Without his extraordinary assistance, the family would have lost their home permanently. Other lending firms simply ignored the family, but Alexander was willing to protect their equity and way of life. In both business and charity, Moishe Alexander exhibits an undeniable compassion for those in need.
For More Information:
Please see the Canadian Funding Corporation website or Moishe Alexander's blog for more information regarding the company, or real estate financing.
###