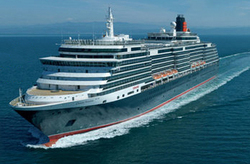 Boca Raton, FL (PRWEB) November 27, 2007
Singles Travel International announced today two exciting cruises in 2008 on the newest of the Cunard fleet, the elegant Queen Victoria. Be one of the fortunate to sail on the brand new luxurious cruise ship during its first year on the seas. From May 20 through 27, Singles Travel International will depart from Southampton, England to cruise the Norwegian Fjords. Then, November 5 - 17, single travelers will have the opportunity to discover Ancient Wonders of the Mediterranean including the ancient ruins of Ephesus in Turkey and the Great Pyramids.
A unique marriage of heritage and innovation, the Queen Victoria features elegance and style throughout the ship, from its three-tier Grand Lobby to its White Star Service. Warmly reminiscent of a more gracious era, modern technology combines seamlessly with her classic yet contemporary interior. This ship was crafted to exude elegance with intricate mosaics, gleaming chandeliers and luxuriant marbles. Travelers will enjoy gourmet cuisine created by Cunard Fleet Executive Chef Jean Marie Zimmerman in the Britannia Dining Room or Todd English's Mediterranean Restaurant. The Cunard Royal Spa and Fitness Centre and ballroom dancing lessons keep passengers fit. The Royal Court Theater features brilliantly staged musical productions and theater performances by actors of the Royal Academy of Dramatic Art. There's much to do on the ship, but don't forget the wonderful stops, too!
The Norwegian Fjord Cruise departs Southampton, England on May 20 and cruises the North Sea to Norway, including stops in Bergen, Hellesylt, Geiranger, Aalesund, and Stavenger and returning to Southampton a week later, on May 27. Prices start at $1,839.
The Ancient Wonders Mediterranean Cruise departs Rome, Italy on November 5 and sails to Naples, Messina (Sicily), Valletta (Malta), Alexandria (for Cairo/Giza), Port Said, Kusadasi (for Ephesus), Istanbul, Dikili, Volos and Athens for 13 days of cruising. Prices start at $2,399.
Singles Travel International travelers enjoy enhanced services that are above and beyond what the ships offer. Introduce yourself to fellow single travelers at the Welcome Aboard Ice Breaker Party. Meet singles for Breakfast Club each morning and Happy Hour Club each night, if you wish. High Tea in the Queen's Room is a special treat. Singles Travel International gets preferred dinner reservations at Todd English. There are also many other coordinated activities for members of the group such as Dance Lessons, Wine Tasting, Cooking Lessons, Backstage Theater, Ladies Night at the Spa, Meet the Captain, Dine with the Officers and Learn the Secrets of the Queen Victoria!
About Singles Travel International:
With over 25 years experience in travel consulting and a 75% repeat clientele, Singles Travel International leads the singles travel profession with worry-free travel that meets the unique needs of our discerning solo travelers. Every group with 20 or more guests is accompanied by at least one Singles Travel International escort who is available 24 hours a day to provide assistance and create a fun-filled environment. Although a Singles Travel International trip is a terrific way to meet people, it's not to be confused for a dating service. Singles Travel International offers age-specific excursions so you can share your incredible experience with others just like you. Travelers can be as involved as they'd like in the multiple tour activities organized daily by the STI staff, spending time with the group or relaxing and exploring on your own. Singles Travel International guarantees solo travelers a roommate when requested, provided the traveler signs up and pays in full by the final payment date for each program.
###