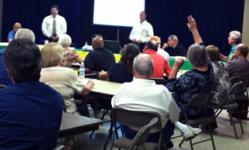 "Given the recent events in Seffner and the interest of our members, we would like to discuss the warning signs of possible sinkhole activity."
Lakeland, FL (PRWEB) March 15, 2013
This is a panel with a purpose. They have been tasked to lead a discussion, to answer questions and to provide some insight into the recent occurrences of sinkhole activity in the region.
"Given the recent events in Seffner and the interest of our members, we would like to discuss the warning signs of possible sinkhole activity," said Helen Kelley, LCAM, CMCA, AMS From Creative Management, a community management company in New Port Richey, FL and CONA Program Director.
Other topics requested by the membership for the discussion by the panelists include what to look for when property owners and managers routinely inspect their properties. If sinkhole activity is found, what are the correct repair solutions being developed by professional engineers. The last question to be addressed will be how to find a reputable contractor who specializes in foundation stabilization and sinkhole repair.
The presenters for this event will include subject matter expert JOSÉ C. BUSQUETS, PE from Florida-based, Bracken Engineering Inc.
Mr. Busquets has been involved in the design of commercial and residential structures and has conducted and participated in the design of restoration from existing structures damaged by fire, wind, water, explosions, and differential displacement.
Important to the conversation will be his experience and specialty in the evaluation and restoration of existing structures especially those affected by differential displacement and/or movement related to problematic subsurface conditions such as those exhibited in Central Florida where sinkholes are suspected.
As a Structures Specialist with Florida's Urban Search and Rescue program, Mr. Busquests has deployed throughout the State of Florida to both natural and man-made disasters. In addition, he has been involved with research, development and advancement of tools and equipment utilized within the field of structural underpinning.
James J. Collier, President of Certified Foundations, Inc. (CFI) is a General Contractor specializing in Florida foundation stabilization and sinkhole repair. His company has over 24 years of field experience in the Central Florida area and has successfully remediated stabilization problems for over 4,000 homes and businesses within the State. Jim spearheaded the development of the only 10-Year transferable warranty available for foundation stabilization projects available in the nation.
The CONA (Council of Neighborhood Associations) meeting is scheduled for Wednesday March 20th at 9:30 am. The meeting is held at the Gulf Harbors Civic Center, 4610 Floramar Terrace, New Port Richey FL 34652.
ABOUT CFI
Certified Foundations, Inc. (CFI) has long been recognized as one of Florida's top General Contractors specializing in the area of sinkhole remediation. While working with many of the state's best engineering firms, CFI has provided Florida foundation stabilization and sinkhole repair solutions for 24 years. James J. Collier, CFI President, was instrumental in the development of the only 10-Year transferable and insurance-backed warranty for foundation stabilization projects available in the nation. This warranty, developed in collaboration with Home Buyers Warranty Corporation, headquartered in Denver, Colorado, now provides CFI customers with the assurance that their home's repair, all workmanship and materials, will be guaranteed by an independent third party for ten years. The warranty stays with the parcel, and if the owner decides to sell, the warranty remains in place. The importance of this is compelling for homeowners who enjoy their Florida lifestyle but recognize the recurring sinkhole problem in the area. The inclusion of the unique 2-10 Home Buyers Warranty for Florida foundation stabilization projects, is an added-value provided by Certified Foundations, Inc. For more information about this event and future community presentations given by the Sinkhole Forum, contact Susan Caruso, Director of Marketing via email at scaruso(at)cfi-1(dot)com.