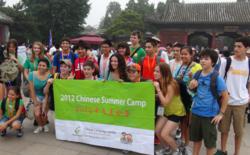 Since its inception in 2003, SLG has closely embraced its mission to promote cultural understanding between China and the rest of the world, SLG will proudly host its programs year after year and continue to evolve and provide relevant opportunities.
San Jose, CA (PRWEB) March 31, 2013
Sino Language Gateway (SLG), a leading provider of Chinese study abroad cultural immersion programs, reaches its 10th Anniversary and celebrates ten successful years of bringing students from around the world to China to experience deep cultural immersion, leadership and language learning. In the past ten years, thousands of students under college age were offered such a unique opportunity. Starting from its first Summer Camp in Beijing in 2003, SLG strived to be a catalyst for bridging the gap between the youth of the East and the West through its cultural immersion programs.
As one of the pioneers to introduce study abroad programs to China for high school and middle school-aged students, SLG measures its success through the enrichment and mental expansion of its students who return from their trips with a larger world perspective and marked improvement in their Chinese language skills. These past and present successes are a byproduct of SLG's high quality summer camps, customizable school trips and cyber learning. The summer camps have been a significant staple of the SLG experience, bringing students to tour the wonders of China and immersing into Chinese cultural through close interactions with the Chinese locals. The customizable school trips have been the key in helping U.S. and international schools provide educational tours to China for own students, and the cyber learning programs have provided an avenue for children and youth to learn Chinese with a native speaker in Beijing through live one-on-one teaching sessions while in the comfort of their own home.
SLG looks forward to continuing its tried and true programs and educational methods, but is also excited to roll out even more exciting programs and opportunities in the future. The current development include 1) long-term International Student Exchange Programs in Shanghai aimed at helping high schoolers learn Chinese language and culture throughout the course of an entire semester or academic year; 2) Chinese Business Internships in Beijing for university students seeking to gain business experience in China. SLG is shaping this internship program to be a one-of-a-kind opportunity that would include language courses, business classes, and accredited internships at high-profile companies as well as cultural tours and activities throughout the weekends.
In the spirit of a truly two-way cultural exchange, SLG also plans to provide short-term and long-term study tours for Chinese students seeking to apply to college in the United States. These programs will be designed to improve the Chinese students' English language ability, prepare them for standardized tests and college applications, involve the students in the local community through volunteer work and interaction with American students, and develop their sense of independence.
"Since its inception in 2003, SLG has closely embraced its mission to promote cultural understanding between China and the rest of the world, " said Anna Yu, Director of SLG. "SLG will proudly host its programs year after year and continue to evolve and provide relevant opportunities for students that will benefit them academically and culturally for the rest of their lives."