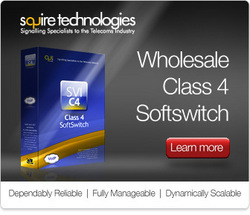 We have been using Squire Technologies products for over 4 years and they have proven to be thoroughly reliable and well supported products
(PRWEB) January 20, 2011
Expanding into the 'All IP' Future
When Eloquant first approached Squire Technologies in 2006 for a STM-1 (Fibre to E1) interconnect with TDM they needed a solution that would expand with their business. With over 4 years successful growth, supported by the adaptable Media Gateway (SVI-MG), Eloquant saw it was necessary to take further advantage of the expanding 'all IP' environment.
"We thoroughly researched the market for SIP interconnect solutions, although Squire Technologies did not offer the sharpest price in the market, with their strong products, technical support, because of our relationship and product operation experience, they were our final choice. We have been using Squire Technologies products for over 4 years and they have proven to be thoroughly reliable and well supported products. With the growth and success of our organisation in the frame we decided to rely on the Squire Technologies C4 Softswitch solution" Brian Wyld, Managing Director, Eloquant, France
VoIP interconnect is the future and when interconnecting two of the largest operators in France Eloquant needed to feel assured. The C4 Softswitch of Squire Technologies provided them with all the functionality they needed. From comprehensive VoIP protocol conversion between SIP/H.323/SIP-I/SIP-T signalling, scalability from 500 to 10,000 simultaneous calls in a single chassis and full redundancy with automatic fail-over the C4 Softswitch ensures 100% uninterrupted service stability. This provides customers with unparalleled service now and as the Eloquant network continues to grow into the future.
"We were please to hear that Eloquant experienced expedient ROI with this product. We relentlessly strive to ensure our products deliver the adaptability, stability and reliability businesses depend upon for success. At Squire Technologies we are proud to have a long relationship with Eloquant and look forward to continuing that development well into the future" Oliver Reynolds-McGowan, UK & European Sales Manager, Squire Technologies.
Squire Technologies
Squire Technologies provides leading edge NGN and TDM telecommunication products and solutions with world-class installation and support services to deliver carrier grade products worldwide. Supporting high availability, scalability and fully featured management system, catering for both small interconnect up to large international points of presence.
For more information contact: -
Oliver Reynolds-McGowan
Sales & Account Manager EMEA
t: +44 1305 757314
###