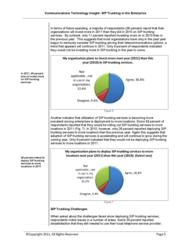 ... reveals an enterprise marketplace that is poised to make significant investments in this technology ...
Gaithersburg, MD (Vocus/PRWEB) February 17, 2011
A new independent survey research report on Session Internet Protocol (SIP) trunking reveals an enterprise marketplace that is poised to make significant investments in this technology – even as executives wrestle with questions about exactly how new deployments will affect current telecom operations and future initiatives.
The survey of 138 executives with telecommunications decision-making responsibilities was conducted and published by Voice Report, a publication of CCMI, in conjunction with BizTechReports, an independent reporting agency that covers enterprise technology trends.
Executives across dozens of industries were asked to provide input regarding their adoption and utilization plans for SIP trunking within their enterprises. The survey of enterprise IT decision makers finds that while a little more than one-third of our respondents are currently implementing SIP trunking services in a substantial manner, 56 percent plan to increase their investments in this technology in 2011.
This positive adoption trend is occurring despite the presence of significant levels of confusion and trepidation about SIP trunking. Questions about cost, reliability and interoperability remain on the minds of survey respondents.
The survey found that:

74 percent see consolidation of telecom services as a benefit of using SIP trunking services.
64 percent of respondents are NOT currently using SIP trunking in their enterprise.
60 percent of SIP trunking users report savings of 10 percent or more over their previous costs
45 percent are concerned about the reliability of SIP trunking services.
27 percent of respondents had issues and/or questions with the reliability of their SIP trunking services.
56 percent plan to invest more on SIP trunking services in 2011.
58 percent intend to deploy SIP trunking services to more locations in 2011.
Download this free survey report, Communications Technology Insight: SIP Trunking in the Enterprise, here: http://www.thevoicereport.com/SIP-Trunking-in-the-Enterprise-Report
About Voice Report and CCMI
CCMI is the industry's leading provider of telecom rate and data solutions and information. We are dedicated to delivering relevant, highly specialized and strategically focused content. CCMI publishes Voice Report, the leading independent source of telecom news, analysis and award-winning guidance on communications technology services and equipment for the enterprise. For analysis and guidance on the latest telecom happenings, visit http://www.TheVoiceReport.com, and sign up to receive email updates. Explore white paper and webinar resources at http://whitepapers.thevoicereport.com.
About BizTechReports
BizTechReports is an independent reporting agency with offices in Washington, DC and the San Francisco Bay Area that analyzes user trends in business technology. BizTechReports explores the role that technology products and services play in the overall economy and/or in specific vertical industries. For more BizTechReports white papers, case studies and research reports, visit http://www.biztechreports.com.
# # #