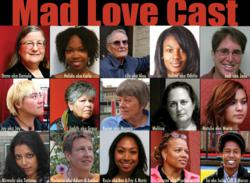 Where is your boundary?
Oakland, CA (PRWEB) September 26, 2012
Mad Love | A play about a coach, her lover, her seven clients, their thirteen relationships and a bridge.
Show Dates | 5th, 6th, 7th and 12th, 13th, 14th of October 2012
Venue: Vagabond Ballroom, 830 Isabella Street, Oakland, CA 94607
The play "Mad Love" portrays the inner lives of seven women during a session with their relationship coach."It would have been a night like any other. Except for that one phone call", says Karen Larsen, acting as Maggie, the relationship coach.
"Mad Love" is a part of Siren Project's 2012 initiative MWWA (Mental Wellness for Women through Arts). The aim of MWWA is to heal the community, to raise mental health awareness, and to break prejudices through authentic and collaborative creative work by women in the Bay Area.
Siren's summer production "Playing with Fear" staged in July 2012 at CounterPULSE in San Francisco, was the creation of 30 women coming out with their individual fears and hopes.
"Mad Love" provides another perspective to the MWWA project by looking at the boundaries we draw and the bridges we cross in our personal relationships through the lens of mental health.
Asked about how this play was written, Roke Noir, the Founding Artistic Director of Siren said, "Twenty Five women submitted their personal stories about the impact of their mental health issues on their interpersonal relationships, and vice-versa. We collected theses stories over the phone, through emails, and face-to-face conversations. Five women threaded together these personal life stories to write the script for this play."
The thirty all-women cast and crew of "Mad Love", diverse in age, religion, race, sexual orientation and profession, have passionately collaborated to give shape to this play to reflect the delights and dilemmas of relationships involving love, madness and things in between. Six nights this October, they come out with their exploration for the community to witness.The play will be followed by a Community Dialogue around a theme each night as audience members interact with the directors, therapists, coaches and the cast to discuss the issues brought up in the play.
"How do our mental health issues impact the people we love? How do our intimate relationships affect our own mental well being? How do we draw boundaries around us and build bridges with others?" says Roke Noir, Siren's founding Artistic Director. "For years I've been envisioning the MWWA project regarding the impact of mental health on the way women live and love. It is a project close to my heart because of my personal journey as a queer woman from India, as I deal with how mental health challenges have impacted my family, my personal relationships and me over the course of my life. This project is about aligning my demons and my angels, unleashing my creativity on my fears, and learning to dance with it."
In parallel, MWWA continues through dialogues, circles, interviews, research and documentation involving many more women in the S.F. Bay Area towards a book and a documentary film in 2013. This project will also be implemented through workshops, dialogues and shows in Kolkata, India during the Winter of 2012-13.