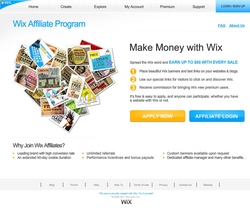 "Website owners are offered an extremely easy way to make money through the Wix Affiliates Program, just by directing their users to a quality resource...it's a win-win."
New York, NY (PRWEB) March 16, 2011
Wix.com is a high-tech start-up with over 8 million users, who create customized websites with its free website builder. The product itself is an online tool that allows users to make sites without having to code. Users can drag & drop design elements to create a website from scratch. Wix also supplies an extensive gallery of free templates, all of which are fully customizable through the same easy process.
Wix is a popular tool for small business owners, photographers and artists, entrepreneurs and other professionals who make or need high-quality websites. Wix gives users the freedom and the ability to customize and update their sites whenever they like, rather than hiring an expensive pro designer or learning how to do manual coding.
Owners of websites in related fields can offer Wix to their users, and in return earn a portion of the profit made when a user upgrades to Premium. (Wix users can publish their sites for free under the Wix domain, or connect to their own URL by upgrading to Wix Premium). Art blogs, photography schools, design studios, marketing agencies, and even resume services can earn money through their own sites, just by offering Wix.
Manager of the Wix Affiliates Program, Eilon Ginzburg, says, "Website owners are offered an extremely easy way to make money through the Wix Affiliates Program, just by directing their users to a quality resource."
The program has proven so successful both to participating affiliates and Wix.com that it is currently possible for a Wix Affiliate to earn as much as $80 per premium upgrade.
Wix Affiliates is free to join for anyone with a website – whether they are Wix users or not. Wix supplies banners and special links that the affiliates place inside their websites. Each time a visitor who clicks on an affiliate link or banner upgrades to Wix Premium, the affiliate makes a profit.
It's also easy to monitor the success of the partnership, with a tracking system built by Wix specifically for Affiliates. Not only does this allow affiliates to easily track profits, but it provides valuable information about their own visitors' likelihood to purchase items online.
Wix also offers any help needed for affiliates to track URLs and monitor the program.
"We're very open-minded when it comes to providing our affiliates with opportunities to promote Wix to their audience," says Ginzburg. "For example, we've had bloggers host contests, in which the prize was free Premium membership for a year. The blogger is offering something of value to his or her user-base - while providing a flow of quality traffic to us. It's a win-win."
For more information visit wix.com or the Wix Affiliates Program.
About Wix
Wix was created in 2006, and released the open-beta version of its website builder in June of 2008. Wix is located in New York, with offices in San Francisco and Tel Aviv. The company is backed by investors Mangrove Capital Partners, Bessemer Venture Partners and Benchmark Capital.
###