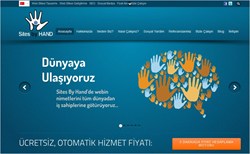 Launching our Turkish language website is just a first step toward the global outreach that Sites By Hand is striving to achieve.
STANFORD, California (PRWEB) February 06, 2013
Sites By Hand, a first-of-its-kind Web design and solutions site established by Stanford University students, announced today the launch of a Turkish language version of its website.
The launch brings Sites By Hand a step closer to its goal of becoming a global web development company providing international website design and effective web solutions, while contributing its services to non-profits worldwide.
Sites By Hand is working overtime to meet the needs of a growing number of global consumers searching for web services that fit their professional needs and budget, beginning with English language and Turkish website design. In doing so, the company has committed to making a positive global impact by empowering non-profits worldwide with pro-bono services.
Student technology experts at Sites By Hand create high quality, professional websites by hand for small businesses and individuals. Potential customers simply log on to the SitesByHand.com website and begin browsing the menu of services to select those that match their needs. The Sites By Hand three-minute calculator provides an automated estimate, so users can plan a personalized Web solution they can afford.
"Launching our Turkish language website is just a first step toward the global outreach that Sites By Hand is striving to achieve," says Ryan Breslow, co-founder and Head of Production for Sites By Hand. "We are building our reputation on innovation, collaboration, and a commitment to meet the needs of a global community in need of practical web development services."
Building on a new generation of online innovation, Sites By Hand is also delivering on a global-minded social strategy that places a high regard on contributing to something larger than itself. Sites By Hand believes that each profit-earning entity must also have a social impact.
Sites by Hand is proud of its commitment to social issues. A portion of the profits from every website purchased is earmarked for helping non-governmental organizations (NGOs) and non-profit organizations meet their web needs.
About Sites By Hand:
In addition to collaborative custom web design, Sites By Hand offers premium domain services, logo and Favicon design, professional graphics, establishment of a content management system (CMS), fast revision capabilities, complete on-page SEO, custom branded Emails, professional content page writing, blog-style formatting, shopping cart integration, inventory and integrated payment systems (including PayPal), search features, password protection for pages, video marketing and more.
Sites By Hand specializes in development of E-commerce websites, informational websites (business, NGO, non-profits, etc.), portfolio websites, interactive websites, blogs, and websites with custom relationship management (CRM) software. Sites By Hand also offers ongoing support with a content management system that is integrated into each new website to enable clients to create new web pages, manage site categories and tags, easily edit existing content, access and alter site settings, add photos, videos and other media, and more. Customer care services are also available, which offers an ongoing relationship between Sites By Hand and the client's IT manager to handle website updates quickly and efficiently.
For more information on developing a website and other web services, visit the Site By Hands website at http://www.SitesByHand.com, or Email info(at)sitesbyhand(dot)com.
###