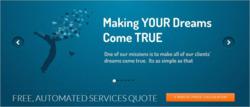 Just one more innovation in website design.
STANFORD, California, (PRWEB) March 22, 2013
Sites By Hand, a first-of-its-kind Web design and solutions site established by Stanford University students, has launched a new "3-minute price calculator" tool for users to estimate the cost of building a new website, or redesigning an existing website according to their needs.
The cutting-edge price calculator tool is just one more innovation in website design from SitesByHand.com, the brainchild of Stanford University students who developed the first-of-a-kind interactive site development solution that helps users produce beautiful, affordable and innovative websites and effective web solutions, while contributing its services to non-profits on a global scale.
The three-minute SitesByHand.com price calculator is just one more way in which Sites By Hand is working to meet the needs of a growing number of global consumers searching for web services that fit their immediate needs and budget. SitesByHand.com offers users as much or as little help as they need to build a vivid, professional website and create expert content, all search engine optimized for visibility.
Student technology experts at Sites By Hand have created a site in which customers simply log on and begin browsing the menu of services to select those that match their needs. Options for website building include:

Type of project (new website, website redesign, website additions/adding non-design features);
Type of website (Ecommerce, Informational/Corporate, Non-profit, Entertainment), Portfolio, Blog, Community (Forum, Chatroom);
Number of pages;
Advanced forms;
Advanced search tools (search content by categories, types, or other advanced fields);
Blog section;
Discussion forums;
Advertising integration;
Social media integration, and much more.
"We designed SitesByHand.com as a model for the global outreach platform that we are striving to achieve," says Ryan Breslow, co-founder and Head of Production for Sites By Hand.
"We are building a new generation of collaborative technology that features our own brand of innovation and our commitment to meeting the needs of a global community in need of practical web development services.
"We are focused on revolutionizing streamlined custom design by making custom web solutions reliably and with fast turnaround times."
Building on innovation as it's developed by the next generation of tech visionaries, Sites By Hand continues to honor a global-minded social strategy that places a high regard on contributing to something larger than itself. Sites By Hand believes in corporate accountability that places a high priority on social responsibility.
A portion of the profits from every Sites By Hand website purchased is earmarked for helping non-governmental organizations (NGOs) and non-profit organizations meet their web needs. Sites By Hand recently launched the Turkish language version of its website, part of a mounting campaign toward globalization.
About Sites By Hand:
In addition to collaborative custom web design, Sites By Hand offers premium domain services, logo and Favicon design, professional graphics, establishment of a content management system (CMS), fast revision capabilities, complete on-page SEO, custom branded Emails, professional content page writing, blog-style formatting, shopping cart integration, inventory and integrated payment systems (including PayPal), search features, password protection for pages, video marketing and more.
Sites By Hand specializes in development of E-commerce websites, informational websites (business, NGO, non-profits, etc.), portfolio websites, interactive websites, blogs, and websites with custom relationship management (CRM) software. Sites By Hand also offers ongoing support with a content management system that is integrated into each new website to enable clients to create new web pages, manage site categories and tags, easily edit existing content, access and alter site settings, add photos, videos and other media, and more. Customer care services are also available, which offers an ongoing relationship between Sites By Hand and the client's IT manager to handle website updates quickly and efficiently.
For more information on developing a website and other web services, visit the Site By Hands website at http://www.SiteByHands.com, or Email info(at)sitebyhands(dot)com.