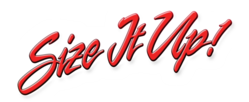 New York,NY (PRWEB) March 20, 2013
SizeItUp has publicly launched the fitment information for the 2012 Chevrolet Sonic. This integration was brought about by a spike in the automobile market for low priced, fuel economy cars.
The 2012 Chevrolet Sonic has received a lot of attention the past year because of the excellent power and fuel economy features delivered by its optional turbocharged engine. Compared to its competition and price, the Chevrolet subcompact offers a better deal including an attractive cabin, crisp handling, and top safety scores. The vehicle houses a 1.8-liter engine that generates a healthy 138 horsepower and 125 pound-feet of torque. The 2012 Chevrolet Sonic comes as a sedan and a four door hatchback, both of which include three trims. Some of the features included are 15-inch alloy wheels, air-conditioning, a four-way (manual) adjustable driver seat, a tilt-and-telescoping steering wheel, and a six speaker audio system.
The top safety scores received by the 2012 Chevrolet Sonic models, is because of its standard stability controls, antilock brakes (front disc, rear drum), side curtain airbags, front knee airbags and side-impact airbags for all outboard passengers (front and rear).
So when a vehicle is getting glowing recommendations from the automobile reviewers, it is only natural that retailers would want to sell rims and tires for that vehicle. However, in order to do that, they must have access to fitment information, which SizeItUp is providing. SizeItUp's database solution is the reason behind the success of many small retailing businesses.
About SizeItUp:
Sizeitup [http://www.sizeitup.com is the sole provider of an ACES compliant fitment database that is available for online retailers commercially. Investing in custom solutions is not a solution for a majority of small business, which is what, led to Brian Inge creating SizeItUp. Our fitment database can be used to run an auto-parts website or to maintain a digital catalogue. Some of our biggest clients today are successful wheel and tire stores such as WheelsNoLimit, SacramentoCustomWheels, and many others.