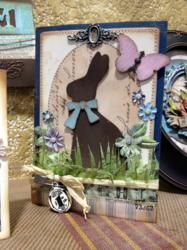 Lake Forest, Calif. (PRWEB) March 04, 2013
Making the most of March, Sizzix® rolled out the latest additions to the Tim Holtz® Alterations product line for Sizzix. The newest offerings which debuted before retailers and attendees of CHA Winter in January offer the boldest design choices yet for today's creative market.
Continuing to grow in popularity with each assortment, Alterations products work seamlessly with each of Tim's previous releases allowing crafters more unique shape cutting and embossing possibilities than ever. Among these possibilities to complement Tim's motorized Vagabond™ Machine for Sizzix are a Sizzlits® Decorative Strip Tapered Fringe die to create realistic 3-D grass or borders; a Bigz™ Pediments die for classic architectural accents; more moveable Movers & Shapers™ Magnetic dies, including the classic Mini Bottle Cap & Stamp Die Set (2PK) and Sized Rectangles (3PK) to cut a photo or create a scene that can be easily layered onto the new Movers & Shapers Postage Stamp Frame; Texture Fades™ Embossing Folders offer a timeless impression with Bottle Caps & Rulers (2PK) and Travel Signs Set (4PK).
Crafters can also take the next step of their creative journey with three new Tim Holtz Alterations Stamp2Cut™ cartridges for the eclips® Electronic Shape-Cutting Machine. Stamp2Cut Cartridges No. 20, 21 and 25 create the quickest and easiest cuts around Tim's Stampers Anonymous antique sketch images for endless creativity.
The complete March release of the Tim Holtz Alterations collection is now available from the Sizzix network of craft retailers.
About Alterations
The Tim Holtz Alterations line of products is a creative assortment that brings together many mixed-media dies and embossing products for countless creative applications with the motorized Sizzix Vagabond Machine. Each element was specifically designed to work with Tim's other products to inspire paper crafters and mixed-media artists to discover their true creativity.
About Tim Holtz
Tim Holtz is the Creative Director for Ranger Industries, one of the leading manufacturers of innovative inks, paints and embossing products. Tim plays an integral part in the development and design of cutting-edge papercrafting products. Tim has teamed up with various key companies like Advantus, Tonic Studios, Sizzix, Stampers Anonymous and Core'dinations to bring unique products that work hand in hand. Learn more about Tim and connect to video tutorials and his blog at http://www.TimHoltz.com.
About Sizzix
Launched in 2001, Sizzix is a division of Ellison Educational Equipment Inc., the market pioneer and leader of die cutting machines and accessories. Through its portfolio of die cutting machines and die cutting products, Sizzix leverages Ellison's 36 years of proven manufacturing and technology heritage to empower creativity among its customer base with new and innovative products. Sizzix is a recognized global brand that can be found in over 100 countries and in major and specialty retailers. For more information on Sizzix and its line of craft-inspiring products, please visit http://www.Sizzix.com.