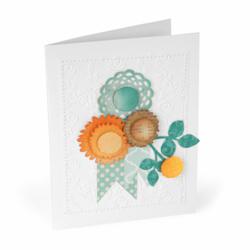 Lake Forest, Calif. (PRWEB) March 06, 2013
Sizzix®, the market pioneer and leader in die-cutting machines and accessories, is pleased to announce Scrappy Cat's newest product line, English Garden, featuring the flower power of inspired Sizzlits® and Embosslits™ dies and Textured Impressions™ Embossing Folders—perfect for Spring.
Capturing delicate charm, the latest release of Scrappy Cat® die-cutting and embossing products for Sizzix enables consumers to create intricate fantastic floral shapes, including in 3-D, impressive embossed designs and more.
"The beauty and elegance of gardening served as my inspiration for our newest Sizzix collection," says Kim Roberto, founder of Scrappy Cat. "I wanted to bring delightful expressions that today's crafters can use while cardmaking, scrapbooking or creating any other type of paper craft."
In addition to a selection of blooming Sizzlits – available as Singles, Sets of 3 Dies and Decorative Strips – the latest assortment includes two Embosslits that cut and emboss lovely flower blooms, adding versatility of use. Four sets of Textured Impressions Embossing Folders offer a variety of stylish patterns, certain to enhance any craft project. All dies and embossing folders are compatible with the Sizzix Big Shot™, BIGkick™ and Vagabond™ machines.
"Scrappy Cat is a proven design innovator. Our partnership allows crafters of any skill level to make professionally-looking floral projects every time," says Kristin Highberg, CEO of Ellison.
The full March release of the English Garden collection by Scrappy Cat is now available in thousands of stores around the country, including local craft boutiques and major retail craft chains. For more information, visit Sizzix.com.
About Scrappy Cat
Scrappy Cat is an internationally recognized brand in the scrapbooking and paper crafting industry. Founded in 2003 by Kim Roberto, the company debuted its products in February of 2004 at the HIA Show (now called CHA) in Dallas, Texas, and was immediately recognized by Creating Keepsakes Magazine with a 2004 New Product(s) Editor's Choice Award. Known for its highly innovative stamp designs, stylish patterns and coordinating products, Scrappy Cat products are distributed by Darice, Inc., a proven leader in the craft market worldwide. Scrappy Cat is also a licensed designer and brand that collaborates with Sizzix (Ellison) on a wide variety of artistic die designs for the Sizzix lineup of die-cutting machines.
About Sizzix
Launched in 2001, Sizzix is a division of Ellison Educational Equipment Inc., the pioneer and global market leader of die cutting machines and accessories. Through its portfolio of die cutting machines and die cutting products, Sizzix leverages Ellison's 36 years of proven manufacturing and technology heritage to empower creativity among its customer base with new and innovative products. Sizzix is a recognized global brand that can be found in over 100 countries and in major and specialty retailers. For more information on Sizzix and its line of craft-inspiring products, please visit http://www.Sizzix.com.
# # #