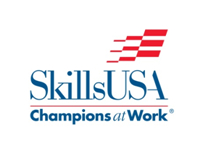 I like the competitive side of welding – it adds another level of motivation for me and that is important to better myself. I want very much to win both for myself and for the United States.
Leesburg, Va. (PRWEB) March 19, 2013
Alex Pazkowski of Saline, Michigan and a student at Washtenaw Community College in Ann Arbor, Michigan will represent the United States in Leipzig, Germany in the Welding competition during the biennial WorldSkills Competition. Pazkowski will compete as a member of the United States "WorldTeam." The 42nd international event will be held July 2-7, 2013.
Pazkowski was awarded the high school gold medal in Welding during the SkillsUSA Championships in June 2010 and won the right to compete in the WorldSkills competition during qualifying trials held at the AWS/SkillsUSA U.S. Invitational Weld Trials held at FABTECH 2012 and at the Weld Finals competition, held in February 2013 as a part of Speedweek at the 2013 Daytona 500. He also successfully completed other qualifying prerequisites prior to being chosen for the team.
Pazkowski credits his instructor, Dave Jodway at Saline High School in Saline, Michigan, with laying the foundation for his love and passion for welding. "I had the pleasure of being Alex Pazkowski's welding instructor from 2007 to 2009," said Dave Jodway. "Alex was extremely motivated and had an extremely high aptitude for learning the craft of welding and he was the most dedicated and hard-working student I've ever had the pleasure of instructing. Alex practiced and listened so well to instruction that he was welding in vertical and overhead positions in the first half of his junior year and passing bend tests a year earlier than most. He set the bar very high for himself and he is ready to show the world the Alex that we all know."
Pazkowski has excelled at the welding and fabrication program at Washtenaw Community College. When asked about his skills and motivation, Pazkowski's advisor, Glenn Kay, said, "Anyone that comes in contact with Alex can see that he is not only a very talented and skilled individual but also committed, driven and an all-round exceptional young professional. He strives for perfection, which is not easily attained, and that fact is what challenges Alex every day to be his absolute best."
"I'm looking forward to the opportunity to compete on an international level," said Pazkowski. He added, "I like the competitive side of welding – it adds another level of motivation for me and that is important to better myself. I want very much to win both for myself and for the United States."
In the WorldSkills Welding contest, competitors must be able to read and interpret drawings and specifications; set-up welding equipment in accordance with the manufacturers' specifications; select the required welding process as designated on the drawings; set and adjust welding parameters as required, including (but not limited to) welding polarity, amperage, voltage, wire feed speed, travel speed, torch/electrode angles, and mode of metal transfer; perform welding in all positions on plate and pipe for all nominated processes as detailed in ISO2553 and AWS A3.0/A2.4; weld steel plate and sections using the Manual, the Gas and the Flux Cored arc welding processes; weld steel plate, stainless steel sheet and sections and aluminum sheet and sections utilizing the Gas Tungsten Arc welding process; and cleaning of welds utilizing wire brushes, chisels, scrapers, etc.
"We are so thrilled and proud that Alex has made it to this level," said Alex's mother, Becky Pazkowski. "It is a rare person who can stay focused for years to reach this level of skill, and I believe Alex is that rare person. He has worked incredibly hard to get here, and his efforts are being rewarded. I know he will be an exemplary representative of our country. He will make us all proud, as he continues to do every day for his family," she added.
Every two years, hundreds of young people from 53 member countries or regions compete in the prestigious WorldSkills Competition. Member countries include: Japan, England, Saudi Arabia, Canada, Australia, Thailand, Brazil and many others. Considered "the best of the best," contestants compete for four days in 45 occupational skill areas from economic sectors including manufacturing, information technology, transportation, construction and services. Accompanied by their teachers, trainers and industry technical committee experts, these young people compete before the public in contests that are run and judged by industry using demanding international standards.
Over its 60-year history, WorldSkills International (formerly known as the "Skill Olympics") has come to symbolize the pinnacle of excellence in vocational training. It provides a unique means of exchange and comparison of world-class competency standards in the industrial trades and service sectors of the global economy. The continued growth of WorldSkills International attests to the fact that traditional trade and craft skills along with the newer technology multi-skilled occupations makes an essential contribution to the economic and social well being of people everywhere.
In 2013, more than 1,000 competitors will test their skills in Leipzig, Germany. Five thousand international experts, delegates and judges will gather from around the world, and 3,000 volunteers will be recruited to assist in the event. A total of 150,000 student and public spectators will attend the competition at the Leipzig Trade Fair and Exhibition Center. For more information about the competition, go to: http://www.worldskills.org or http://www.worldskillsleipzig2013.com.
Alex Pazkowski is a member of SkillsUSA, the organization that represents the United States in the WorldSkills Competition. Competitors in WorldSkills must be under the age of 23. There are a total of 20 members of WorldTeam. Other occupational areas in which the United States will compete include: Autobody Repair; Automobile Technology; Beauty Therapy; Bricklaying; Cabinetmaking; Car Painting; CNC Milling; CNC Turning; Cooking; Graphic Design; Hairdressing; IT Networks Systems Administration; Mechatronics (a two-person team contest); Plumbing & Heating; Print Media Technology; Refrigeration and Air Conditioning; Restaurant Service; and Web Design.
About SkillsUSA
SkillsUSA helps students discover and grow their career passions. As a nationwide partnership of students, instructors and industry working together, SkillsUSA works to ensure America has a skilled workforce. It helps every student excel. The nationwide career and technical education student organization annually serves more than 320,000 high school, college and postsecondary students—and their instructors—in technical, skilled, and service occupation instructional programs. Career and technical education is learning that works for America. SkillsUSA has the active support of more than 1,100 corporations, trade associations, business and labor unions at the national level. Over 10.5 million people have been annual members of SkillsUSA since its founding as the Vocational Industrial Clubs of America in 1965. SkillsUSA programs teach leadership, citizenship and character development to complement technical skill training. The organization emphasizes respect for the dignity of work, ethics, workmanship, scholarship and safety. For more information, go to http://www.skillsusa.org
# # #