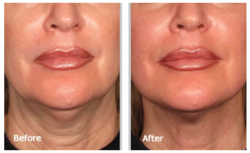 The most exciting aspect of Ultherapy™ is that it is often a single treatment with no downtime. Patients can return to work the same day.
Vancouver, British Columbia, Canada (PRWEB) December 13, 2011
Dr. Shehla Ebrahim is a Fellow of the College of Family Physicians and focuses on skin care in Vancouver. She has announced that she will be providing Ultherapy™ for the treatment of wrinkles and sagging skin. Dr. Ebrahim says the treatment may be optimal for patients who are not ready for a surgical procedure, such as a facelift, or may be unwilling or unable to undergo facial surgery. By stimulating the creation of new collagen in the skin, she says Ultherapy™ can help slow down the aging process. A non-invasive procedure, Ultherapy™ is unlike facelift surgery in that it typically does not involve downtime, the risk of scars, or the potential for more serious side effects.
Ultherapy™ utilizes ultrasound heat and imaging combined with acoustic energy to treat skin beneath the surface by lifting and tightening dermal tissue and creating new collagen. Dr. Ebrahim says the procedure tightens skin around the eyes by lifting the brow, reducing excess skin on the lids, and opening up the eyes for a more refreshed, younger appearance. She adds that although Ultherapy™ cannot exactly replicate the results of surgery; however, it requires no special recuperation or preparation and can produce visible and rejuvenating results.
Because the procedure can performed in 30 to 60 minutes and involves no recovery time, Dr. Ebrahim says it has been playfully nicknamed the "Lunchtime Lift," offering patients a quick and subtle way to enhance their complexion and improve the health and appearance of their skin. While many patients can enjoy some effects immediately, she says the full results can be expected within about two or three months. "A majority of women who have had Ultherapy™ will notice a visible difference in texture, tone, and tightening of their skin within 4-6 weeks due to collagen stimulation. Collagen contraction and lifting will be evident in 3-6 months."
Dr. Ebrahim says patients seeking Ultherapy in Vancouver should be sure to consult with an experienced and dedicated dermatologist before undergoing any procedure. She adds with the help of a passionate and qualified staff, Ultherapy™ can offer patients noticeable, yet subtle results in refreshing skin and adding vibrancy to one's complexion. Dr. Ebrahim says she is excited to be able to offer the latest in dermatology technology and techniques. "The most exciting aspect of Ultherapy™ is that it is often a single treatment with no downtime. Patients can return to work the same day. There is no foreign substance injected in the skin and it relies on the body's own natural defense mechanisms to lift and tighten the skin."
About Shehla Ebrahim, MD
Dr. Shehla Ebrahim received her undergraduate degree from the University of British Columbia and a diploma in practical dermatology through the University of Cardiff in Wales. She is actively involved in teaching first-year medical students in family medicine and clinical research. Dr. Ebrahim has been published in several print and television media outlets for dermatology and has been recognized by the Women's Enterprise Society as the top 100 entrepreneurs of British Columbia. She is a Certificant of the College of Family Physicians of Canada, a Fellow of the College of Family Physicians of Canada, and a member of the BC College of Family Physicians, the British Columbia Medical Association, and several other professional organizations. Dr. Ebrahim has also been nominated by the North Vancouver Chamber of Commerce for the best doctor on the North Shore in 2011.
Located at 104-2609 Westview Drive in North Vancouver, BC, Dr. Ebrahim can be contacted at (604) 998-1594. Her practice can also be reached online via the website afterglowskincare.ca.
###