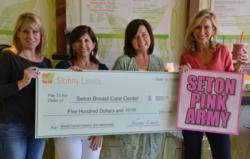 (PRWEB) April 30, 2013
Skinny Limits, an Austin, Texas brand offering fresh raw juices to those dieting, detoxifying, and focused on living healthy lifestyles, recently devoted $500 of its proceeds to The Seton Fund, which collects funds for a new Breast Cancer Center at Seton Medical Center Austin (SMCA).
Skin cancer aside, breast cancer is the most common form among American women, affecting the lives of one in eight (12%) according to the American Cancer Society. Estimates project 232,340 new cases of invasive surgery, 64,640 new cases of non-invasive forms of early cancer, and 39,620 female deaths occurring in 2013.
Skinny Limits' donation to the Breast Cancer Center is another small gesture facilitating the grand enterprise of better understanding and ultimately curing breast cancer. The center will adopt a multi-disciplinary approach, inviting the best in medical technology and talent, addressing patients from diagnosis, to treatment, to ultimate recovery.
Though rates of breast cancer began decreasing in 2000, incidents of diagnosis have remained stable in recent years. Breast cancer is the second leading cause of cancer death in females, and though rates have been declining since 1989, especially in women younger than 50, better medicinal attention and progression is warranted. Decreased rampancy is linked to early detection, better awareness, and new advancements in treatment.
Skinny Limits makes donating a steady part of the business' diet, recently participating in TheGive5.org, a mission involved in finding people to donate $5 per month toward a number of humanitarian charities around the world. The raw juice and healthy diet brand gave 5% of a day's proceeds toward the cause.
Skinny's owners found out about the Seton charity through the efforts of the Seton Pink Army, a group of individuals committed to spreading awareness about the new center and helping recruit charity funds. Right now, 2.9 million breast cancer survivors enjoy their lives thanks to charitable efforts and the progression of understanding cancer and finding a lasting cure. "Some of our customers, in the Pink Army group, alerted us about Seton's mission. We are proud to do our small part in supporting the acquisition of new equipment and the ongoing construction of the Breast Cancer Center."