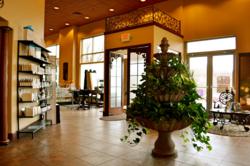 I am thrilled with our newest product line, SkinPhD. I believe that it is the best on the market
Wexford, PA (PRWEB) May 10, 2013
Above All Grand Salon and Spa is one of the largest, upscale salons and spas in greater Pittsburgh at over 9,000 sq. feet with a beautiful Tuscan motif that is contemporary yet relaxing. Since 1979, the owner, Diane Robison, and the professional team at Above All have built an outstanding reputation on service and quality. That is the reason Ms. Robison says that she selected SkinPhD Cosmeceuticals as her newest offering to guests. "I am thrilled with our newest product line, SkinPhD. I believe that it is the best product on the market and I am excited about offering our new cold laser, photo bio-stimulation facials to our clients. You will love the SkinPhD products and cold laser facials! I am always searching for only the best for our clients!" says Ms. Robison.
What makes SkinPhD Cosmeceuticals"the best"? SkinPhD CEO, Heather Elrod, says "It is our unique formulations with a high level of ground-breaking, active ingredients that bridge clinical and natural; effective yet luxurious. SkinPhD is an American company yet our cosmetic scientists reside in South Africa where we formulate our product collection. This is a very important part of our product research and development as we combine rich, indigenous South African extracts, such as the semi-precious stone Zincite, Marula (the golden fruit from the region), and Kalahari Melon with the most advanced cosmeceutical ingredients on the market. These powerful natural actives are appealing but, moreover, our clients want and expect results...that is what SkinPhD delivers in an extraordinary way and at a conscientious price point."
SkinPhD combines cosmeceutical skin care with cold laser therapy facials. New to the aesthetic market, cold laser therapy has been used for decades by physicians, sports therapists, and chiropractors for pain management relief as it builds collagen and elasticity, oxygenates the blood, and is anti-inflammatory. It works within the mitochondria of the cell producing a process called "ATP" which brings the cells back to their original state of health over a series of treatments. Above All Grand Salon and Spa owner, Ms. Robison, says that she is "amazed at the vitality that appears in the skin after a cold laser treatment. We are seeing tremendous results in the appearance of so many different skin types and issues." An example of one of the cold laser facials being offered at Above All is a "Platinum Illuminating Facial": the skin is exfoliated using SkinPhD's award-winning AHA 7-Fruit Amidroxy Exfoliator followed by the collagen-building and oxygenating cold laser therapy. A luxurious cocoa mask is brushed on the skin that not only smells delicious but also delivers a powerful dose of anti-oxidants leaving the skin illuminated and glowing. An application of Liposome C&E Serum (Liposome is the most stable form of C) and SkinPhD's Platinum Flawless Day Cream (a top-seller) is massaged into the skin and it feels amazing! Look in the mirror and you can't believe the difference in your skin--it looks hydrated, firmer, glowing...WOW!
Above All Grand Salon and Spa won the 2013 Reader's Choice award in their market. The aestheticians at Above All have decades of experience with a very loyal and prominent clientele. "It is clear that Ms. Robison and her team are experts at delivering an exceptional guest experience," says Ms. Elrod. "SkinPhD is delighted to join Above All Grand Salon and Spa in bringing confidence and a sense of well-being to their guests through beautiful, renewed, healthy skin!"
###
SkinPhD was founded in 2011 with the goal of bringing ground-breaking, cosmeceutical skincare from South Africa to the U.S. market. SkinPhD is available through our dedicated network of physicians, luxury spas, and medspas. For more information on our products and cold laser therapies, to find a location near you, or for career information, please visit our website at http://www.skinphd.com.