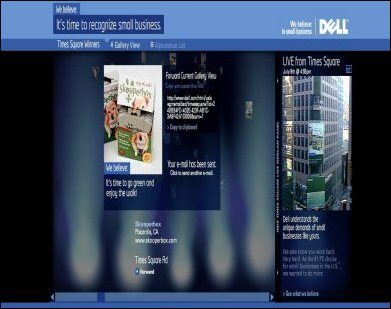 The Spirit of Small Business!
Los Angeles, CA (PRWEB) July 10, 2007
Skooperbox™ was chosen by Dell Small Business as a product that exemplifies "The Spirit of Small Business!" Dell will display Skooperbox™ on their iconic Times Square Billboard on July 9 and 10, 2007 as a business with an innovative business approach as well as expertise and creativity.
Innovative Business Approach
As we, on a worldwide level, begin to realize an ever increasing awareness of our Planet, the Environment and the need to make changes at an individual level, Skooperbox™ is a Go Green dog clean-up product that is unrivaled in the industry. Made out of 100% recycled paper and also 100% Biodegradable, Skooperbox™ has a high appeal to a discerning demographic of consumers.
Together with its ergonomic design and patent pending scooper tab, Skooperbox™ is as fun and easy to use as it is earth friendly. Skooperbox™ is a unique and exclusive Go Green dog clean up product that caters to consumers seeking a natural and organic alternative to plastic bags.
TIME Magazine recently declared: Just Say No to Plastic Bags! citing that it takes over 1000 years for a plastic bag to break-down in a landfill. The City of San Francisco has banned ALL plastic bags, and now entire States, like California are considering similar legislative measures. The amazing Skooperbox™ completely biodegrades within days. Consumers in search of green and eco-friendly products are cognizant of the fact that sustainable products cost a bit more than what we're accustomed to; however, they feel the Planet is worth it.
"Neon lights, classic advertisements and mesmerizing retail stores - that's Times Square in a nutshell. No wonder it's the World's biggest tourist attraction. I think there is no place in the World that brings together Advertising, Marketing and Technology in a way better than Times Square. Some cool facts about the Times Square - It accounts for about 0.1% of New York City's area, but accounts for 5% of city's jobs and 10% of city's economic output. The total economic output of $53 billion is more than the combined GDP of Bolivia and Panama (The Times Square Magic, May 13, 2007 Adscovery.com)."
Skooperbox Retails for $11.99. and is available in a small/medium size and large. Everyone from children to celebrities love the Skooperbox™
Y-DITT, LLC., is an innovative marketing company and an expert in creating leading socially and environmentally aware brands for consumer products and health and safety products. The centerpiece of the company is the Skooperbox™ line that reflects the company's environmental spirit. The company was launched in 2005 and is located in Placentia, California. For more information, please visit http://www.skooperbox.com.
Dell, Inc., was founded in 1984 by Michael Dell, the longest-tenured executive to lead a company in the computer industry. The company is based on a simple concept: by selling computer systems directly to customers, Dell could best understand their needs and efficiently provide the most effective computing solutions to meet those needs. Dell sells more systems globally than any computer company, placing it No. 34 on the Fortune 500. Dell's climb to market leadership is the result of a persistent focus on delivering the best possible customer experience by directly selling standards-based computing products and services. Revenue for the last four quarters totaled $57.5 billion and the company employs approximately 88,100 team members around the globe.
###