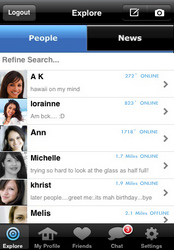 We are very excited about today's release of our Skout dating platform and the SKOUT iPhone application
Miami, FL (PRWEB) January 22, 2009
Skout is a new mobile, real-time, location-based dating platform that helps people meet compatible singles in their vicinity. People can use Skout to chat, share photos, and even share videos and other information. Whether at a conference, a bar, a college campus or a sporting event, people with similar interests who are near each other can use Skout to communicate and possibly even find love.
Skout's online dating service and iPhone application are being launched at the 6th annual Internet Dating Conference in Miami, Florida, January 22nd and 23rd, 2009.
"When I founded Match.com, I envisioned how the internet could change the way singles discover each other . As we stand at the cusp of mobile convergence, Skout is perfectly positioned to disrupt the online dating market. Skout represents what all dating companies must become to not only just remain relevant, but to survive," says Match.com's founder Gary Kremen.
The Skout dating service is available on virtually every mobile phone with a browser as well as via a laptop or desktop computer by visiting http://www.skout.com .
The company is also releasing SKOUT, an iPhone application, available free of charge at Apple's App Store under the Social Networking / Lifestyle categories.
"We are very excited about today's release of our Skout dating platform and the SKOUT iPhone application," says Skout Founder and CEO Christian Wiklund. "We're making it easy for singles to discover others with similar interests, using location information and mobile phones. Skout brings cheer to people who are on the go and typically don't have time to find someone special."
According to Juniper Research, the mobile dating market will reach 1.4 billion dollars by 2013. Skout is perfectly positioned to take advantage of this growing market.
About Skout
Skout is a mobile, real-time, location-based dating platform that helps people meet singles in their vicinity by chatting and sharing photos and other user-generated content. The company is based in San Francisco, CA. The service is available on over 10,000 mobile devices, as an iPhone application, and on any Internet-connected laptop or desktop computer.
For more information, please contact:
Patrick McGovern
Chief Marketing Officer
Skout, Inc.
1-650-265-7553
pmcgovern (at) skout (dot) com
###