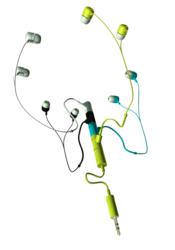 We've seen a tremendous momentum in product sales to domestic retailers and international distributors, in a very short time-span. This clearly demonstrates Skunk Juice earbuds' extremely broad appeal
Los Angeles, CA (PRWEB) October 03, 2011
Humble Fish Inc. is proud to announce that their new, hit product Skunk Juice brand earbuds (http://www.skunkjuiceearbuds.com), is now available through nine domestic retailers and is also being distributed globally in no fewer than 16 different countries.
In a matter of just four months, industry and consumer rave product reviews have led to Skunk Juice earbuds' widespread and successful partnership with domestic retail heavy-hitters such as Attic, Keyboard Quarters, Waterboyz, Sun & Snow, Tandem Media, Bridge of Harmony, Hometown Music, Peachtree Music, and AMEX Distribution. The product has also gained international distribution in practically every corner of the world, including Australia, Columbia, Cypress, Singapore, South Africa, Thailand, the U.K., Chile, Canada, Vietnam, Turkey, Norway, Sweden, Denmark, Finland, and South Korea.
"We've seen a tremendous momentum in product sales to domestic retailers and international distributors, in a very short time-span. This clearly demonstrates Skunk Juice earbuds' extremely broad appeal," says Humble Fish President/COO, Simon Yi.
Skunk Juice earbuds' glowing reviews from the industry elite have been featured in publications and on-line outlets such as iPhoneLife Magazine, WIRED, AOL's engadget, Maximum PC, and PC World, as well as on popular technology blogs like TrustedNerd.com and ChipChick.com.
In addition to the retail outlets now carrying Skunk Juice earbuds, the brand will also be launching on the Home Shopping Network ("HSN") later this fall. The Skunk Juice launch on HSN, which broadcasts live to 96 million U.S. households, will further – and dramatically – extend the product's reach.
Skunk Juice Earbuds, launched in January 2011 at the International CES® tradeshow in Las Vegas, are an innovative and first-to-the-marketplace product utilizing patented technology which carries specific current and signal through a magnetic connection. This technology is derived from the award-winning concept created for, and used in, ZZYZX SnapJack (http://www.ZZYZXSnapJack.com) instrument cables.
Skunk Juice earbuds' patented magnetic connection technology incorporates magnetic attachments in the earbud cabling. With the introduction of the Skunk Juice product, Humble Fish offers a new way to listen to – and share – music or other digital files, and also eliminates damage to the actual earbuds and listening device, be it a laptop, PC, iPod, or other device. Although the product is heavily catered to the world-wide teenage demographic, specifically ages 9-19, the product will also appeal to musicians and artists in the studio, studio engineers, as well as other consumers of listening devices and wireless phone brands.
Skunk Juice produces popular mini-commercials as part of their animated marketing plan, which is primarily comprised of a series of YouTube webisodes that introduce and follow the Skunk Juice mascot, which is of course, a skunk. The Skunk Juice videos are designed with the intent to drive traffic to the company's website, and also designed to go viral, so that audiences can share them via all forms of social media.
The premier Skunk Juice video campaign can be viewed on-line at: http://www.youtube.com/user/SkunkJuiceEB. For more information about Humble Fish Inc. and the expanding Skunk Juice product lines, to find a distributor or dealer, or to shop directly through their website, please visit: http://www.skunkjuiceearbuds.com. Skunk Juice earbuds can also be found on Facebook at http://www.facebook.com/SkunkJuiceEB, and on Twitter at http://twitter.com/SkunkJuiceEB.
Requests for further information, comments, or interview requests can be directed to Humble Fish President/COO, Simon Yi, at 213.700.6448, or via email at: Simon [at] skunkjuiceearbuds [dot] com.
###