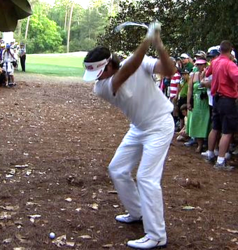 I was ecstatic that SkyDroid helped with Bubba's win last year. Knowing your distance to any point on the course has never been easier. - Paul Goldstein, SkyDroid - Golf GPS founder.
West Hartford, CT (PRWEB) March 28, 2013
As we approach the Masters Golf Tournament at Augusta National, the first major of 2013, we look back on how Bubba Watson pulled off his amazing 2012 win there.
During his practice round in 2012, Bubba used a GPS device powered by SkyDroid - Golf GPS course data. Bubba was using the MotoActv golf watch during practice which uses SkyDroid courses exclusively.
SkyDroid course data (which contains all the latitude/longitude points for the front, center, back of the golf greens and other features like hazards, target points, trees), is crowd sourced by SkyDroid's user community. Users add new courses every single day of the year using the web based Course Mapper tool on the SkyDroid website.
Starting in 2010 with only a small number of courses, the SkyDroid database has grown in 2013 to over 25,000 golf courses covering the entire world. Using satellite imagery supplied by Google Maps (and Bing Maps in some cases), users can add new courses or update existing ones online and then download updates to their SkyDroid - Golf GPS app running on Android, iPhone and Blackberry 10 devices.
Bubba's win at the Masters in 2012 proves that SkyDroid course data is at the top level, is super accurate, and can be used by pro and amateur golfers all over the world to help improve their game.