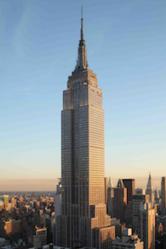 and we're excited to offer these Holiday ticket packages for New York City tourists – and to experience the spectacular views from the Empire State Building
New York, NY (PRWEB) December 05, 2012
NY SKYRIDE announces their Holiday ticket sales for not only the popular New York attraction SKYRIDE, but for the Empire State Building Combo ticket package, Madame Tussaud's New York and more. All Holiday sale tickets can be conveniently purchased online at the NY SKYRIDE website.
"New York City is a Holiday destination for many tourists, so we're thrilled to offer a Holiday season sale on our most popular New York City tourist attraction packages," states Marilyn Rivera, Group Sales and Marketing at NY SKYRIDE, "and, of course, what New York tourist doesn't want to visit the Empire State Building?"
The NY SKYRIDE, located on the second floor of the Empire State Building is the perfect New York City attraction for all ages – and included in this Holiday sale is the Combo package combining the NY SKYRIDE attraction with the exhilarating outside views of New York City from the 86th Floor Observation Deck of the Empire State Building.
"The Empire State Building is a must see New York tourist attraction," continues Rivera, "and we're excited to offer these Holiday ticket packages for New York City tourists – and to experience the spectacular views from the Empire State Building's 86th Floor Observation Deck along with the one-of-a-kind thrill of the NY SKYRIDE attraction tour – all in one convenient location."
In addition to the Holiday ticket discounts, NY SKYRIDE offers Group Tour Benefits and Fast Track entry.
To Purchase Discount Tickets Online for NY SKYRIDE & Empire State Building:
Visit: NY SKYRIDE / Empire State Building Tickets
Call: 1-888-SKYRIDE (1-888-759-7433)
About NY SKYRIDE:
New York Skyline, Inc., a wholly owned subsidiary, owns and operates the NY SKYRIDE, a multi-million dollar flight simulator New York City attraction located in the Empire State Building. From its inception, New York Skyline's location based entertainment concept maintains a consistent philosophy of providing quality entertainment for the entire family. Using state of the art technology, the NY SKYRIDE attraction provides a unique on-site entertainment experience for guests of all ages with worldwide appeal.