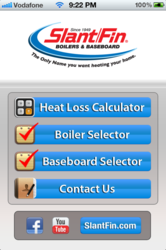 And there's simply no better way to do an accurate heat loss calculation than by using our new 'Hydronic Explorer' app.
Greenvale, NY (PRWEB) September 19, 2012
Heating contractors can now add a powerful tool to their 'belt' for free by downloading the new heat loss calculator app from Slant/Fin, one of the oldest and most respected names in boilers and baseboard heating. The first app of its kind designed for use with any iPad or iPhone, the extremely handy "Hydronic Explorer" makes it easier than ever for today's heating professional to determine, in-home, the ideal equipment a customer needs for maximum comfort and fuel efficiency.
"It's a win-win for contractors and customers," states Adam Dubin, President of Slant/Fin. "Our new 'Hydronic Explorer' saves the professional time and money while improving their standard of service, and gives the consumer added fuel savings and peace-of-mind knowing they're getting the best for their home. To top things off, during this introductory period, we're offering our 'Hydronic Explorer' app to all heating contractors and homeowners for free."
Long known as an innovator, Slant/Fin is the first boiler/baseboard manufacturer to offer an app with a heat loss calculator tied directly into a Product Selection Guide. This allows contractors to produce a heat loss calculation at a customer's home, then in moments find the appropriate product(s) and make better-informed recommendations for boilers and baseboard. Professionals simply enter a set of required measurements in "Hydronic Explorer" to calculate the total heat loss, then simply go to the Boiler/Baseboard Product Selection Guides to determine which Slant/Fin product(s) best suit a customer's specific heating load needs.
"Most contractors do their best to calculate using just pencil and paper," notes Dubin; "not an easy task. In the past, with much lower fuel prices, conventional wisdom was to oversize rather than undersize. Today's heating costs make proper sizing critical. And there's simply no better way to do an accurate heat loss calculation than by using Slant/Fin's new 'Hydronic Explorer' app. Right on the spot, a contractor can recommend the most energy-efficient, cost-saving boiler and/or baseboard equipment for a given home."
Dubin also points out that the user-friendly "Hydronic Explorer" can be used for heat loss calculation or solely as a Product Selection Guide separately as well as in tandem. Furthermore, once the app is loaded, Wi-Fi is not necessary to utilize the calculator. Wi-Fi capability is only needed if a contractor desires additional information regarding recommended products, and needs to visit Slant/Fin's website.
Contractors that download and try out "Hydronic Explorer" during the company's limited-time free introductory period are invited to provide feedback on the experience. Comments can be sent to info@slantfin.com or posted on Slant/Fin's Facebook page.