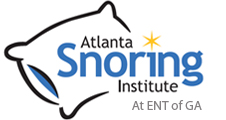 This double certification demonstrates a consistent practice focus and dedication to the highest standards in management of sleep disorders.
Atlanta, GA (PRWEB) June 01, 2012
The Atlanta Snoring Institute (ASI) is a leading provider of snoring and sleep apnea treatments. With physicians already certified by the American Board of Otolaryngology-Head and Neck Surgery, Dr. Howard Herman points out, "we are uniquely trained to identify and treat the physical airway problems which cause snoring and sleep apnea." Now, with four of ASI's members also being certified by The American Academy of Sleep Medicine, the team has become equally qualified to identify and treat the medical contributors to sleep disorders.
The American Academy of Sleep Medicine (AASM) was established in 1975 (then known as the Association of Sleep Disorders Centers), and to this day is the forerunner in establishing the standards for sleep medicine health care, education and research. The academy exists as the only professional society focused solely on the field of sleep medicine.
The AASM board certification includes aspects of cardiology, neurology, and pulmonary medicine. Already leaders in the Pillar Procedure, a minimally invasive treatment for snoring and obstructive sleep apnea, the additional knowledge and resources allows the ASI team to achieve high levels of success with even complex sleep problems which have failed treatment elsewhere. "When addressing challenging diagnostic problems, or complex surgical problems," Dr. Danko Cerenko, another ENT of Georgia physician explains, "members discuss the problems in order to provide optimal management of the condition." Some procedures may require two physicians working together. According to Dr. Herman, "It (the double certification) allows us to confer with each other to offer the most effective options, each of us benefiting from each others experience."
Another advantage afforded the Atlanta Snoring Institute's focus and number of patients treated is the ability to demand the highest quality services and products from medical equipment companies at no additional cost to their patients. Being a member of AASM and innovators in the field also provides the ASI physicians continuous up-to-date information about new products and findings pertaining to the field of sleep medicine.
"Over the next 5-10 years, we plan to continue to raise the bar and offer a level of quality and expertise which exceeds norms and expectations," states Dr. Herman. "This includes concentrating within our practice the most advanced diagnostic and treatment options available." In order to continue to effectively provide better service for Atlanta sleep disorders, Dr. Herman also insists, "This requires not just medical expertise, but also a commitment to treating patients with respect and offering the best customer service possible." Sleep disorders are unique to each individual. Now, with four physicians double certified in Otolaryngology-Head and Neck Surgery as well as Sleep Medicine, the Atlanta Snoring Institute is primed to fully evaluate the causes of a patient's sleep problem, clearly discuss their findings and treatment options with the patient, as well as fully involve them in the treatment decisions. Dr. Herman stresses, "Only by respecting patients' intelligence and right to be involved in all decisions involving their care can the highest levels of success be achieved."
About Atlanta Snoring Institute
Atlanta Snoring Institute is dedicated to the Treatment of Sleep Apnea, snoring, sinusitis, and allergy problems. The staff is made up of the highly-recommended Board-Certified Otolaryngologists, or Ear, Nose & Throat specialists. Our doctors are skilled in the treatment and management of snoring and sleep apnea. Atlanta Snoring Institute is part of ENT of Georgia and has been serving Atlanta patients for over 20 years.
ASI offers a full range of medical, minimally-invasive and surgical cures for snoring and obstructive sleep apnea, such as the Pillar Procedure snoring treatment. ASI is dedicated to your health and will work with you to provide the best treatment options to effectively treat your snoring or OSA. To learn more, our website is a great learning tool with tons of helpful videos, articles, and patient testimonials.