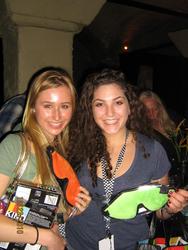 Dream Essentials is known as the 'one-stop-shop' for anything to do with sleep
Morrisville, NC (PRWEB) December 2, 2010
Today, Dream Essentials (http://www.dreamessentials.com) the world's preeminent sleep solutions company, announced its B2B program, 'Where the World Comes for Relaxation,' with a wide variety of comfortable and functional sleep masks for companies, institutions and organizations like hospitals, clinics, airlines, hotels and spas, where sleep and relaxation is part of their business.  No job is too big or too small for Dream Essentials who delivers effective and quality sleep solutions, with rapid prototyping and quick delivery.  With five factories across the globe, Dream Essentials is a truly innovative company, which can create new designs for its clients, or tailor existing masks to fit customer needs at competitive prices. 
Dream Essentials is an industry leader and best known for its wide variety of sleep masks that everyone can wear, available in a wide array of designs, colors and fabrics from organic cottons to exotic silks.  Their masks range from those that black-out all light, to relaxing herbal masks, gel masks that can be chilled and bead masks that can be heated and therapeutic eye hydrating masks for those with dry eyes.  The main ingredient in all their masks is comfort, so they can be worn any time of day and in any position.
They were the official provider of sleep masks to the Athlete's Village at the 2010 Vancouver Winter Olympics; donated masks for children and adults at 'Hollywood's 2010 Rally for Kids with Cancer' charity event chaired by Eva Longoria and supported several 'Dine in the Dark' events for the sight impaired, including 'Badger Association/Center for Blind' and 'Visually Impaired Children.' Other clients include Wynn Hotel, Westin Hotel, J.W. Marriott, Sheraton, Bravo TV's 'top chef' and Kaiser.
Dream Essentials is known as the 'one-stop-shop' for anything to do with sleep and is always looking for new ways and new places to help people stay rested and be healthy," comments a spokesperson for the organization, continuing, "Whether it's a simple black-out mask, a gel mask for sinus issues, or a specialty mask for dry eyes, they have a lot to offer companies, facilities and organizations where sleep, health and relaxation are integral to their business."
For Hospitals - A perfect sleep mask for Hospitals is the simple and elegant 'White Waffle Toweling Sleep Mask,' made of a soft, but robust, cotton toweling fabric with a waffle style pattern, which is simple and inexpensive with a 3/4" adjustable band that fits comfortably around the head. The mask has a nose bridge, which consists of a flap of material that tucks in over the nose to help prevent light from entering.  For more details go to: http://dreamessentials.com/a_mask_waffle.aspx
For Hotels, Spas and Sleep Centers, we recommend The Bamboo Breathe mask, a simple lightweight sleep mask made from natural bamboo fiber fabric that is designed to breathe, so it is less warm to wear than other sleep masks - available in teal and ginger.  For more details go to: http://dreamessentials.com/a_mask_bamboo_breathe.aspx
For Airlines:
For Economy Class, The Snooz™ is inexpensive, but delivers the features of a more expensive mask, with the Comfort Bridge™, which provides superior light blocking around the nose, as well as cushioning the eyes without pressure - available in many colors.  For more details go to:  http://dreamessentials.com/a_mask_snooz.aspx
For Business Class, Sweet Dreams™, offers amazing comfort and cavities for the eyes; molded and contoured, this sleep mask conveniently folds away into a storage pouch and fits easily into a purse, bag, briefcase - a great value at a small price and available in many colors.  For more details go to:   http://dreamessentials.com/a_mask_dreamlite.aspx.
For First Class, The Escape™ is a luxurious sleep mask made from plush velvet, with 100% light blockage, eye cavities, an adjustable Velcro™ strap, earplugs/ case and storage pouch - available in 6 plush colors.  For more details go to:  http://dreamessentials.com/a_mask_dream_away.aspx
Some of Dream Essentials' clients include:  Vancouver Olympic Village 2010, Dr. Mercola, 'The Sleep Doctor,' Meadows Sleep Center, Lucid Dream, Westin Corporate, Wynn Hotels, "Top Chef" (Bravo TV), Universal Studios, Fabulous Bitch Brands and several major hospitals.
"Have your next sleepover event catered by Dream Essentials".
###