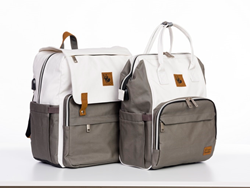 One thing everyone can agree on is that babies and children come with messes, so in addition to being fashionable and functional, it was important to us that we created an extremely durable bag that would withstand the test of time
OREM, Utah (PRWEB) October 09, 2018
Today Sleepy Panda introduced its new line of diaper bags on Kickstarter to bring everyday style and function to parents' lives.
Designed by parents for parents, Sleepy Panda diaper bags make caring for children simpler with a durable, fashionable and organized bag to take on any outing – big or small.
"We have both been fortunate to travel the world with our families," said co-founder Nikki Sue Larkin. "In doing so, we realized just what we needed and wanted from a diaper bag. As our children grew up and had their own children, we discovered the perfect opportunity to create a higher quality, more functional diaper bag that would make their busy lives easier."
Sleepy Panda bags serve as an all-purpose diaper bag by providing dedicated space for parents and baby. Two zones ensure that there is a secure place for every essential. The "parent zone" provides an anti-theft privacy pocket for valuables, a built-in USB charging hub, insulated drink holders and a dedicated "mommy pocket" up front for easy access to necessities. The bags include a removable stroller strap, padded back straps as well as cell phone and privacy pockets.
The "baby zone" provides a washable changing pad, insulated bottle holder and dedicated pacifier pocket, while the "back zone" is all about convenience. It provides a removable stroller strap, padded back straps as well as cell phone and privacy pockets.
"One thing everyone can agree on is that babies and children come with messes, so in addition to being fashionable and functional, it was important to us that we created an extremely durable bag that would withstand the test of time," continued Larkin. "We also wanted to make the bag stylish so Dads' would feel comfortable carrying them as well."
Made of cross-weaved natural canvas with "Grime-Shield," a glazed stain-resistant and water-resistant coating, Sleepy Panda bags are easy to clean. A rubber "Grime-Shield" bottom with feet ensures easy storage and wet bags keep mishaps from smelling or spreading grime throughout the bag.
Sleepy Panda diaper bags come in two models – The Kaitlyn, which is ideal for everyday outings, and The Lizzie, which is larger and made for weekend trips or for moms with several children.
Other features include:

Cross Weaved Canvas with "Grime-Shield" Glazed Coating
"Grime-Shield" bottom with integrated feet
Quality of Construction - Nylon stitching, premium metal zippers
Roomy interior with 7 pockets
Pacifier Pocket
Personal Pocket
Mommy/Daddy Pocket
Removable Stroller Straps
Electronic Sleeve
USB Charging Hub
Easy reach cell phone pocket
Anti-theft Privacy pocket
Two oversized insulated exterior Drink Pockets
Padded Shoulder Straps
5 Pack - Includes Stroller Straps, Separate Clutch, Changing pad, Wet Bag and Insulated Bottle Holder
For more information, or to pre-order a Sleepy Panda diaper bag at an early-bird crowdfunding price, visit the Sleepy Panda page on Kickstarter.
About Sleepy Panda
With their husbands work, co-founders Nikki Sue Larkin and Tiana Nichols have been able to travel to many countries. Through their travels, they discovered the perfect opportunity to design and create a higher quality more functional diaper bag. This then grew into our journey of Sleepy Panda.