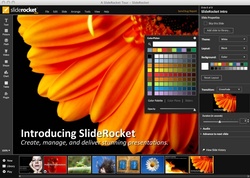 SlideRocket redefines the way we think about presentations. It's easy to use, powerful and elegant, I love it!
San Francisco, CA (PRWEB) October 28, 2008
SlideRocket Inc., today announced the general availability of its rich, Internet-based presentation software-as-a-service offering, putting traditional desktop presentation applications on notice by providing a dynamic alternative to desktop presentation software used daily by millions.
SlideRocket unveiled its pricing -- with discounts available for a limited time -- as well as a set of collaboration features aimed at business users who commonly share presentations. In addition, it is debuting the SlideRocket Marketplace: an online store for browsing and buying presentation-related content and services.
"SlideRocket provides a new experience for presentation users at every level," said Mitch Grasso, CEO and Co-founder of SlideRocket. "By integrating powerful authoring tools, intelligent asset management, secure sharing, and presentation metrics in an easy-to-use Internet application, SlideRocket caters to every part of the presentation life cycle and empowers users to break free from the tired traditions and models of today's presentation solutions."
SlideRocket Redefines the Presentation Experience
With SlideRocket, users have access to their presentations both online and offline, with consistent results in any Internet browser (Windows, Mac OS and Linux) from any location.
SlideRocket incorporates:

professional authoring tools
intelligent management of rich media assets
secure sharing and publishing
collaboration
an extensible architecture
presentation metrics
a marketplace of content & services
online and offline playback of presentations
a simple, easy-to -use interface
Designed with the business user in mind, SlideRocket enables working teams to collaboratively author slide decks, manage and share a visual library of presentations slides and assets, track versions, assign user rights, automatically update content across the organization, and conduct web meetings. This unique set of features results in streamlined content creation, greater organizational awareness and significantly improved reuse of intellectual property saving time and resources.
SlideRocket's wealth of features has resonated with early users: "SlideRocket redefines the way we think about presentations. It's easy to use, powerful and elegant, I love it!" said Irene Chiu, a Consumer Solutions Strategist in Sony's Media Software and Services division.
SlideRocket Availability and Pricing
SlideRocket is available immediately at http://www.sliderocket.com. A free version, with basic functionality, is available on an ongoing basis. In addition, for a limited time, SlideRocket is offering introductory discounted pricing on its enhanced versions:
SlideRocket Individual, normally $15 per month is now $10 / month with an annual commitment.
SlideRocket Business, designed for team use, normally $30 / user / month is now $20.00 / user / month with an annual commitment.
Additional pricing details and ordering information can be found at http://www.sliderocket.com.
The SlideRocket Marketplace™ Streamlines Access to Services and Content
SlideRocket also announced today a set of initial partner providers for the SlideRocket Marketplace, a store within SlideRocket where users can browse and buy a wide variety of digital presentation assets (photos, illustrations, icons, themes, video, audio, etc.) and services such as printing & delivery, graphic design, copy writing, editing, presentation coaching, resource rentals, and more.
Charter partners include Mimeo, the online leader for digital printing, binding and shipping documents right from your computer, Fotolia, a leading provider of royalty-free stock photos with over 4.3 million assets, and PresentationPro, a market expert in presentation templates and graphics.
About SlideRocket:
SlideRocket is committed to delivering the best presentation experience to individuals and businesses around the world through innovative and compelling software-as-a-service (SaaS). By providing the most complete and integrated presentation solution, SlideRocket empowers users to make great presentations.
###