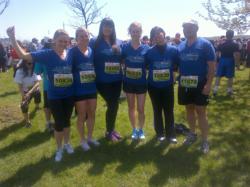 "We have so many patients who are affected by diabetes, and we want to do something to show how much we care. I'm a big believer in the idea that every little bit helps,"
Toronto, ON (PRWEB) May 08, 2012
A team of Slimband staff members participated in the Goodlife Toronto Marathon's 5 km run / walk during the past weekend, and raised $610 to support the Canadian Diabetes Association, a sum which is being matched by Slimband to raise the total to $1,220.The Goodlife Toronto Marathon has been a Toronto tradition for 35 years, drawing hundreds of participants each year.
The Slimband team comprised: Dietitians Alexandra Friel, Ashley Comstock, and Rachel Hannah, Post Op Support Nursing Associate Joanna Hollie Yu along with Katherine Good and Ken Pollard.
"We have so many patients who are affected by diabetes, and we want to do something to show how much we care. I'm a big believer in the idea that every little bit helps," said Dietitian Alexandra Friel, the team's organizer.
More than 9 million Canadians are currently living with diabetes or pre-diabetes. Obesity is linked to type 2 diabetes – high levels of fat in the bloodstream may destroy insulin producing cells in the Pancreas. For years, all that was available to diabetes patients was advice on lifestyle changes and medications. Now, there is new evidence that weight loss surgery, such as adjustable gastric banding and gastric bypass surgery, may help those living with diabetes.
Slimband congratulates these employees not only on their completion of the run, but also on their support of the Canadian Diabetes Association.
"I am very proud of the team because of their commitment to our patients and eliminating diabetes," said Toula Zootis, Patient Support Manager at Slimband.