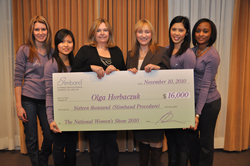 "I speak for everyone at Slimband when I say we're excited that we are able to give Olga, a lifelong dieter, a permanent solution to achieving weight loss success."
Toronto, ON (PRWEB) February 1, 2011
Slimband, North America's premier weight loss surgery clinic, today announced Olga Horbaczuk of Mississauga, Ontario, as the winner from the November 2010 National Women's Show.
The contest which received hundreds of entries, was promoted at the National Women's Show in Toronto, which ran from November 5 - 7, 2010. As the winner, Olga will receive a Slimband surgical procedure and 4 years of follow up care valued at $16,000.
"This should be the end of the diet road for me," said Olga.
Before her current job as a receptionist for a medical company in Mississauga, Olga not only tried various diets unsuccessfully, she even worked for the companies that promoted them. But now the stars have aligned for Olga as she prepares for permanent weight loss success.
Slimband decided to hold the contest to give the gift of weight loss to someone who might not otherwise be able to afford the procedure. Visitors to the November 2010 National Women's Show were encouraged to fill out a ballot at the Slimband booth. The contest was open to all Ontario residents.
Slimband has been North America's premier weight loss surgery clinic for more than 10 years. Their experienced team of surgeons has given more than 6,000 men and women a permanent solution to losing weight and keeping it off. Slimband has offices and fill locations across Canada.
"We are pleased to be giving Olga the chance of a lifetime," said Lisa Borg, Vice President of Marketing for Slimband. "I speak for everyone at Slimband when I say we're excited that we are able to give Olga, a lifelong dieter, a permanent solution to achieving weight loss success."
About Slimband
Slimband is North America's premier weight loss surgery group, specializing in reversible laparoscopic weight loss surgery with a unique aftercare program that includes nutritional counseling, coaching, and fill adjustments. Clients benefit from safe, fast weight loss and increased energy levels as well as the control or elimination of weight aggravated conditions like heart disease, high cholesterol, and type 2 diabetes. Slimband has helped more than 5,500 patients realize their dreams of losing excess weight and looking and feeling their best.
# # #