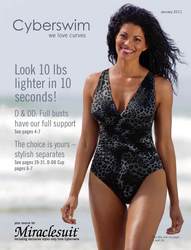 " I feel comfortable and sexy ... in a swimsuit! Thank you for making my dream come true." Janine Devito, Cyberswim's 2010 Miraclesuit Makeover Winner
Easton, PA (PRWEB) January 25, 2011
Cyberswim, Inc., catalog and online retailer since 1999, specializing in Miraclesuit products that make women "Look 10 lbs lighter in 10 seconds," has just selected this year's Miraclesuit Makeover winner. Cyberswim offers the largest selection of slimming swimwear, shapewear and Miraclebody jeans in the world, including hard to find sizes in D Cup and DD Cup swimwear. Slenderizing suits, also available in Misses and Women's Miraclesuit sizes, provide the ultimate in style with waist minimizing and tummy control shape solutions.
Everyone loves those makeover shows. Don't wait for TV when a transformation can happen in seconds with Miraclesuit. Cyberswim's real life swimsuit makeovers, online at http://www.cyberswim.com/makeovers, are proof that women's curves are waiting to be found and flaunted.
As this year's Miraclesuit Makeover winner, Laurel Stanley Glynn is about to experience an amazing trip that will be truly transformative. She'll accompany the Cyberswim team on a photoshoot to an exotic locale. She'll receive a 4 day stay for 2 at a renowned resort including airfare and $500 in spending money. Cyberswim's stylist is already hard at work choosing the swimsuits best suited for Laurel's body type. Benefiting from the experience of Cyberswim's photography and makeup teams and armed with her new wardrobe of Miraclesuits, she'll be the star of the show. Look for outtakes of her trip online and in print later this year.
Here's what winners from previous seasons have said of their makeover experience:
2010 Miraclesuit Makeover Winner Janine DeVito "To be able to stand there in a swimsuit in front of a room full of men and actually not want to run away and hide is an amazing feeling... and I have Cyberswim to thank for it. At one point (during the shoot) I looked over at my mother and she had tears in her eyes. There's no money in the world that can compare to the experience that we shared."
2009 Miraclesuit Makeover Winner Cheryl Dentler: "It was a wonderful trip. Being the center of attention and in front of the camera was slightly intimidating. The photographer, other models, and the Cyberswim President gave me tips on posing and made me feel comfortable. Everyone at the photoshoot was so friendly and kind. It was an awesome experience. One that I will never forget."
You can be next year's Miraclesuit Makeover winner. This contest is open exclusively to Cyberswim Rewards members. Go online and register to become a Cyberswim Rewards Member: https://www.cyberswim.com/register.jsp?r_id=1288650160378.
Membership has many benefits including free ground shipping on U.S. orders, invitations to private sales and early access to Cyberswim's legendary annual clearance sale.
Miraclesuit... a swimsuit so effective it's patented! Miraclesuit uses a proprietary blend of fabric, Miratex, with three times the holding power of regular swimsuits. Miraclesuit slimming swimsuits provide maximum control, support and comfort. Cyberswim's Shape Solutions® help women select the best suit for their body type. Shape Solutions lets women minimize the problem areas and maximize their best features, letting them "Look 10 lbs lighter in 10 seconds," the time it takes to slip one on.
From top to bottom and everywhere in-between, Cyberswim celebrates your curves, giving women the confidence to do the same.
For more information about Cyberswim or this press release, please visit Cyberswim.com or email service(at)cyberswim(dot)com.
# # #