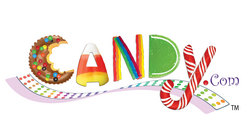 Love my Good and Plenty
Weymouth, MA (PRWEB) August 15, 2009
Candy.com knows that when Choo-Choo Charlie said, "Love my Good and Plenty," and Mars Candy promised "M&M's melt in your mouth - not in you hand," and Tootsie Roll asked, "How many licks does it take to get to the center of a Tootsie Pop," the world-renowned candy companies created memorable slogans that were as sticky as some of their finest candy.
Following their lead Candy.com has enlisted the creativity of candy lovers everywhere to help them come up with a catchy new slogan of their own. Since the launch of the "Candy.Com Slogan Search Contest" the online candy store has collected hundreds of tagline submissions and is now ready to select the winner. Click to vote
According to Candy.com's co-founder, Joe Melville, "We want to give people a little taste of who we are in our company slogan and set ourselves apart from the competition. Candy.com has a unique personality and we want to show it."
The Candy.com team has narrowed down the entries to twenty finalists and is inviting everyone to log on to http://www.candy.com to select the winner. Over the next twenty days visitors to Candy.com will be able to cast a vote for their favorite slogan VOTE HERE and whittle down the list to find the most popular entry. Every day votes will be tallied eliminating the lowest vote getter until a winner is chosen.
The winner will receive a case of their very own gourmet lollipops flavored and shaped in their image of choice. Candy.com will custom design the winner's favorite flavor and color in the shape of a mother, father, boyfriend, girlfriend, best friend, pet, or even a company logo. Only the winning contestant will get to work with the Candy.com design team on a custom consultation and have access to the secret list of flavors and colors.
Greg Balestrieri, CEO of Candy.com said, "Candy lovers never lose their childlike qualities which is why they're so creative. We're all about creating the most fun candy community for kids of all ages and we love that everyone wants to help us build Candy.com!"
About Candy.com -
Candy.com is the go-to destination for everything candy - selling more than 6,000 different candy items including: Hershey, Chocolate Kisses, M&M, Jelly Belly, Tootsie, Wonka, PEZ, Necco, Nestles, Jolly Rancher, Clark, Pop Rock, Lindt, Harry and David, Melville Candy and more. Co-founded by cousins Greg Balestrieri and Joe Melville who represent the third generation of their family-owned candy company, Candy.com is poised to become a key leader in the multi-billion dollar, recession-proof confectionery industry. Candy.com is located in Weymouth, Massachusetts and ships anywhere in the U.S. via UPS. For more information go to http://www.candy.com.
MEDIA INQUIRIES CONTACT:
Rita Barry-Corke
603-778-7201
# # #