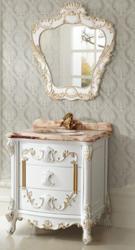 Even with a truly small bathroom, a luxurious antique design isn't out of reach.
(PRWEB) August 04, 2012
HomeThangs.com – the Home Improvement Super Store has made their goal to deliver the right product to the consumer, with that in mind, shopping and home design tips, as well as special product selections are being introduced.
Smaller traditional bathroom vanities usually tend to be a little generic – truly ornate antique bathroom vanities under the 40 inch range are fewer and farther between. Beautiful, designer bathroom vanities that will fit a smaller space are out there, one just needs to know where to look.
HomeThangs introduced a selection of luxurious bathroom vanities to fit the smallest bathroom, while being a stylish centerpiece in an antique style bathroom.
1. Barcelona vanity from Cole + Co is a good example: it's small, but ornately designed and clearly antique inspired. Unlike more generic pieces, which have minimal or no detailed woodworking, this vanity has beautiful tooled legs and delicately carved feet. As well, it has a skillfully aged, painted cross patterning that adds both authenticity and visual interest. And at a lean 28 inches wide, it's perfectly suited to even the most compact bathrooms.
2. All the difference is in the detailing. Truly luxury antique bathroom vanities have a lot more personality. The Gatsby Vanity by Cole and Co is deliberately designed, with a lighter base wood and dark stain on the extensive detailing. The wood work, the color, and even the curvy shape of the vanity all make it eye catching and authentic. And at a mere 30 inches wide, it's the perfect way to cement a period inspired bathroom design even in a very small bathroom.
3. Monroe vanity by Soci is another good example of compact antique bathroom vanities. Clocking in at just under 30 inches, it's perfect for a smaller bathroom, and it has enough detailing to make a foundation for an opulent antique bathroom. Where a traditional vanity would probably have similar detailing on the two front posts, the spectacular quality of detail on the front drawers, plus the antique hardware takes this vanity to an entirely different level. Antique design is all about texture, and the subtly dimpled drawer faces are nothing if not tactilely pleasing.
4. At 37.5 inches at the widest point, the Sydney vanity by Soci is a little on the larger side of small bathroom vanities. But the curved, semicircular shape is a little more forgiving than a traditionally rectangular bathroom vanity. Plus, this vanity has something that many, even larger antique bathroom vanities, don't: in addition to the carved detailing on the feet and borders, this vanity also has three enameled, metallic panels. The enamel allows for a wider range of colors and more subtle, fine detailing – plus a little water resistance – that one won't get from plain wood.
5. Antique bathroom vanities that are, plain and simple, made out of a higher quality wood can go a long way towards creating an authentic antique look and feel. The Lorraine bathroom vanity by Cole and Co is made of solid, high quality alder wood with fine cherry wood veneers. The woodwork is subtle, enhancing the elegant curves of the vanity without overwhelming them, but the most beautiful part of this vanity is the wood itself. The cherry wood is polished to a deep, radiant luster that speaks to antique quality without a lot of ornamentation. This lean, 31 inch wide vanity will create an air of luxury and decadence in even the smallest bathroom.
6. High quality finishes are another thing that set apart truly opulent antique bathroom vanities from more average traditional ones. The Regal Row vanity by Cole and Co is hand painted, distressed, and glazed for an aged, almost marbled pattern that looks both sophisticated and as though it's been taken through its paces.
7. The WB19653A Antique Vanity from Legion Furniture is pristine white with gilt detailing to bring out the delicate floral carvings, with a jade marble counter to top it off. The white finish is softer, brighter, lighter, and will make the bathroom seem more open… and that little glint of gold will add an unmistakable touch of royalty and luxury. All that in a package that's less than 32 inches wide.
Even with a truly small bathroom, a luxurious antique design isn't out of reach.
HomeThangs.com is not only a home improvement superstore, it also provides expert design tips and a comprehensive shopping guide, taking the ideas from professional interior designers, and offering tips to the consumers on how to pick the products to best suit their needs.