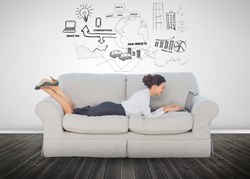 Blog readers want to get in, get the information, and get out.
San Diego, CA (PRWEB) September 18, 2013
Search Engine Watch just released a comprehensive list of SEO Best Practices to help writers navigate the online world of blogging. Bop Design, a San Diego web design agency, helps many businesses set up and maintain their corporate websites and blogs. Bop Design Business Principal, Jeremy Durant, stresses that blogging for B2B websites is a critical part of a company's online presence, but maintains that the blogging process does not have to be overwhelming. "Entrepreneurs and business owners often mistakenly think that their blogs must be literary works of genius before posting on their B2B websites. As sense of paralysis sets in, resulting in procrastination and a backlog of blogs that never get written. This means less opportunity to engage with clients," Durant comments.
Bop Design has released a list of helpful suggestions that will assist bloggers in pushing past their fear of producing new content.
Stop negative thinking. Second-guessing one's ideas kills inspiration. A B2B website blog does not need to be Pulitzer-worthy literature. It simply needs to connect with a company's clients by focusing on something that their audience finds relevant.
Brainstorming is most of the battle. "Business owners know more than they realize," says Durant. He encourages bloggers to take out a piece of paper and draw separate columns for the following three questions: "What's the most important thing to your clients? What are their biggest concerns? What does your company offer to alleviate those client concerns?" Then, he suggests making a list of responses to each question for the business's various types of clients. Each answer is the topic of a new blog entry.
Be yourself. Different authors have different voices, and personality sells. Durant encourages bloggers to write in a simple, conversational tone. If their writing seems too formal, bloggers should dictate their work into a tape recorder or have a conversation with a coworker about the topic then record and transcribe the conversation. This will create a solid foundation of unique, human-sounding content.
Embrace imperfect writing in the first draft. Bloggers mistakenly think that every word must be perfect before they commit it to the page. Writers can reduce stress by creating a first draft full of fragments, run-ons, and other unedited thoughts. Writers who refrain from self-censorship have an easier time in the editorial process.
Print out draft hard copies for editing. Hard copies allow bloggers to work in places that are inconvenient for a laptop, like a daily train commute or in bed at night. They also make it easier to spot grammatical errors and typos. Durant suggests increasing font size to 12-point and widening paragraph spacing to 1.5 before printing. This will leave ample room for corrections and notes. Once a writer has edited the draft and typed those changes, he or she should repeat the process a second time.
Shorten all sentences. Most bloggers start with sentences that are too long. "Chop up as many sentences as possible into smaller phrases," comments Durant. "Less commas and semi-colons. More periods and paragraph returns. Blog readers want to get in, get the information, and get out." He encourages writers to remember what blogging on B2B websites is for: to grab a clients' attention and give them a piece of helpful advice or interesting information.
Schedule a specific time to write. Durant encourages bloggers to stay alert to their sense of when they feel compelled to work on their blog. "A pattern will start to emerge. If you find yourself thinking of blog ideas during your morning drive, use the audio memo feature on your smart phone for a quick brainstorm session," he says. "Simply transcribing your ideas later will generate plenty of quality word count to kick-start your blog entry."
Just do it. Bloggers should work in whatever way feels most comfortable for them, be it dictation, hand writing in pen on paper, or any other method that feels natural. Momentum begets momentum and once blogging is integrated into one's regular work cycle, it will soon fold seamlessly into one's weekly task list.
Enlist staff members for help. Most B2B bloggers are surrounded by staffers who can contribute ideas or blog posts. This is a great way to generate new ideas that that are relevant to the target audience and will also relieve the primary blogger of pressure to generate lots of content ideas.
Do as the pros do: hire someone else. All big brands use content writers. Most executives at top companies hire ghostwriters for their corporate blogs and then simply manage the message. Web development professionals make it their business to research and create compelling content that will support a company and its mission.
"Whether you go it alone or enlist the help of a professional, blogging will get easier," comments Durant. "All successful writers who stick with it know this. Once you find your personal flow and style, the process will become less painful and maybe even a little bit enjoyable."
Bop Design
Bop Design is a San Diego web design agency with offices also in the New York metro area. We express a business values through branding, advertising, design and web design. We also help attract a firm's ideal customer through search engine optimization and search engine marketing. The marketing firm's focus is on small businesses that want an external team of marketing specialists to help give their brand an edge in the marketplace.