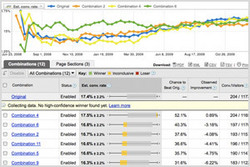 With this new technology, we are able to manage massive corporate websites of Fortune 100 companies with only minimal staff requirements on their end
Miami Beach, FL (Vocus) November 1, 2010
Karma Snack an internet marketing agency is introducing a new pay per click management technology, which incorporates Artificial Intelligence components. They also have recently introduced dynamic search engine optimization (SEO), a new strategy for improving search placement results.
The Miami Beach-based firm developed the new system to allow websites to self optimize based on targets for sales and leads. The site is integrated with Karma Snack's customized Web Analytics combined with the client's in-house analytics data.
Karma Snack's pay per click management utilizes new technologies, which allow clients to respond quicker to changing environments with effective page optimization and bid adjustment. While many PPC management agencies will charge fees of 30 percent for campaigns that are set once and then left alone, Karma Snack's pay per click management technology is equipped with internal artificial intelligence that weeds out poorly-performing campaigns, keywords and ad copy. The system optimizes bids in real time according to data provided by the two sets of analytic software.
In addition to dynamic SEO, Karma Snack has also developed new on-site optimization systems that adjust web site layouts based on sales and leads by implementing design and placements that work most effectively. The new technology uses the Artificial Intelligence bot Carmen, developed the PPC agency's current brand director Adelard Gasana, for quality control inputs. Gasana states, "With this new technology, we are able to manage massive corporate websites of Fortune 100 companies with only minimal staff requirements on their end".
The agency combines experience with technology formed around a team of online marketing experts; Karma Snack was established to provide PPC agency services that push the boundaries of optimization technology. Together the staff has combined experience of more than 15 years in managing Internet marketing and SEO campaigns.
In addition to search engine optimization, the firm also offers services in e-commerce website design and the design of websites based on four marketing formats: lead generation, branding, sales, and information. Karma Snack's website contains several online case studies which demonstrate how the company has provided highly impressive results for its clients.
The firm was able to increase average order sizes for the their uniform client by 331 percent, and to increase the company's website traffic by 1282 percent in just three months. In their campaign for A2ZBigLoans.com, Karma Snack was able to generate more than $32 billion in leads and to improve daily online conversion rates by 20-45 percent. In its efforts for KO Dynasty, a mixed martial arts management firm, the internet marketing agency was able to significantly improve search engine placement. Karma Snack also developed the entire branding package for the company from name to logo and website.
More information on Karma Snack's impressive new PPC and SEO technologies or any of the other services the company offers is available at the company's website KarmaSnack.com. Interested parties can also call the company at (305) 767-3630. Karma Snack is headquartered in Miami Beach with a Web Development office in Boca Raton.
# # #