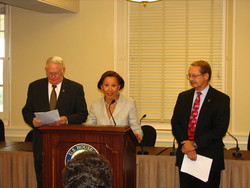 Small businesses employ millions of Americans and are principal drivers of economic growth, but they also face a healthcare system with astronomical prices and little flexibility
Washington, D.C. (Vocus) July 23, 2008
House Small Business Committee Chairwoman Nydia M. Velázquez (D-NY) and Rep. Joe Pitts (R-PA) today introduced landmark legislation making affordable healthcare coverage a reality for small businesses. The bipartisan measure melds elements from separate proposals by the leading presidential candidates. Known as the Small Business ''Cooperative for Healthcare Options to Improve Coverage for Employees'' (Small Business CHOICE) Act of 2008, the bill would help curb the rising costs of health insurance plans for entrepreneurs. It would also lessen the volatility of premiums and add important incentives helping small firms expand coverage for working families.
"Small businesses employ millions of Americans and are principal drivers of economic growth, but they also face a healthcare system with astronomical prices and little flexibility," said Chairwoman Velázquez. "The Small Business CHOICE Act would keep small firms from having to choose between providing health coverage to their employees and keeping their doors open."
It is estimated that more than half of the 47 million people across the country who lack health insurance live in a household headed by a small business owner or employee. Over the course of the past year, small firms have seen healthcare costs rise by almost 15%. The number of companies offering coverage, meanwhile, has dropped by more than a quarter.
"By giving entrepreneurs viable health care options, we are not just helping their businesses succeed. We are bringing coverage to the tens of millions of Americans who contribute to our economy, but find health insurance out of reach," said Chairwoman Velázquez.
The CHOICE Act helps small businesses offer health insurance to employees through a refundable tax credit of 65%. It also minimizes risks for insurance companies by letting small firms pool their employees with those of other businesses in voluntary health cooperatives. That, in turn, allows entrepreneurs the benefit of negotiating far better rates for coverage -- for their employees and themselves. Self-employed individuals would save $5,000 per year on health coverage costs. Other small firms would save more than 34%. The result would be fewer uninsured Americans and a more competitive business sector.
"Small businesses deserve the same flexibility enjoyed by their larger counterparts," said Chairwoman Velázquez. "The CHOICE Act recognizes that solving the health care crisis begins by addressing the health insurance needs of small businesses. It's a firm step in the right direction, and one I hope my colleagues will join Mr. Pitt and me in taking."
To see video of today's press conference, click here.
Supporters of the Small Business CHOICE Act include (click on association name to read the organization's letter of support):

American Rental Association
Coca-Cola Bottlers' Association
CompTIA
National Association of Realtors
National Black Chamber of Commerce
National Community Pharmacist Association
National Funeral Directors Association
National Restaurant Association
National Utility Contractors Association
U.S. Women's Chamber of Commerce
Women Impacting Public Policy
# # #