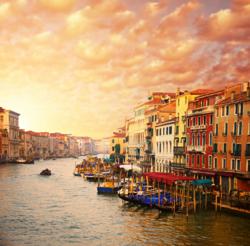 Venice will be transformed...Every nook and cranny of this beautiful city will be filled with the most important art in the world today.
Boston, MA (PRWEB) March 08, 2013
Jean Moss, owner of small group tours operator Olde Ipswich Tours, leads a tour to "Southern France & Northern Italy" each Spring. This year Moss has planned the tour of Italy to coincide with the beginning of the Venice Biennale, arguably the most important International Arts Exhibition in the world.
Her reasons for doing so are twofold. First, her tours specialize in culturally rich experiences. In 1895, Venice Italy held the first International Arts Exhibition. To this day, the Venice Biennale attracts close to 370,000 visitors and hundreds of artists from around the globe.
Each country has a pavilion or space in Venice and chooses one native artist to show their work. Beginning on June 1, Venice will be transformed from one of the most spectacular cities in the world to the most art saturated city on the planet. Every nook and cranny of this beautiful city will be filled with the most important art in the world today. As such, this represents a truly unique experience for art lovers on Moss' tours.
There is, however, a second reason—closer to her own heart—for Moss' decision to overlap her trip to Italy with the opening of the Venice Biennale. This year, her step-son Davis Thompson-Moss has the privilege to be working on the crew responsible for installing the artwork of Sarah Sze, the sculptor chosen to represent the United States at the Venice Biennale.
One might wonder how all of the artwork arrives from all over the world and is installed onsite in Venice. Months of advanced preparation and planning must go into the installation of this art.
"Beginning the end of March I'll be in Venice working with an awesome crew of young artists" explains Thompson-Moss. "As an artist myself, this is my favorite way to experience art; installing it." Before any show opens to the public a very specialized and talented group of people prepare the space, install the art, and light each object.
Davis Thompson-Moss has done this for over 10 years. During this installation time the members of the crew discuss ideas, their own art, and gain an appreciation of the local culture.
"It's a fantastic environment; there's a lot of problem solving, team work and first hand experience with some of the most precious pieces of the world's art" Thompson-Moss says, "This process of installing art is an integral part of my own life and art practice. This June, I'll get to share this passion with my step-mother in Venice."
To get an insider's view of art installation at the Venice Biennale, check in regularly at Davis Thompson-Moss' blog, http://veniceapril.wordpress.com/. His own work can be seen at http://www.davisthompsonmoss.com/.
To find out more about Olde Ipswich Tours' tour of Italy, coinciding with the Venice Biennale, please visit http://ipswichtours.com/southern_france.html.
Olde Ipswich Tours is a small group tours operator based in Ipswich, Massachusetts specializing in culturally rich gourmet tours to Europe. For a complete list of upcoming small group tours, or to learn more about Olde Ipswich Tours, visit our website today.