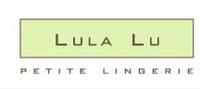 I want a bra that touches my skin, not one that dents in because there's so much space in the cups!
San Mateo, CA (PRWEB) August 28, 2007
For the smaller busted ladies who just want to find a bra that fits without having to go through the stress of sifting through rack after rack of ill fitting bras in departments stores, Lula Lu (http://www.lulalu.com)] has launched Lula Lu Petites, a new collection of bras designed just for smaller cup women, starting at an AA cup.
The Lula Lu Petites collection was developed in line with the feedback received by many of Lula Lu's store and online customers. Many of these customers had expressed frustration at the sizing of some of the AA cups currently available on the market, which they felt were inaccurate and too large. As one customer, Stacey, explained, "I want a bra that touches my skin, not one that dents in because there's so much space in the cups!"
Unlike traditional bra companies who generally use a 34B fit model to determine the sizing of their bras, Lula Lu used a group of AA cup store customers to more accurately determine the fit of the bra cups, especially for the AA and A cup customers.
"We wanted to be as accurate as possible when it came to the AA cups so we enlisted the help of our customers, who were more than happy to provide feedback," comments Ellen Shing, owner of Lula Lu. "We were as frustrated as our customers because we couldn't fit some of them with the existing AA cup styles on the market so we decided to make our own!"
The first collection of Lula Lu Petites includes three styles, two basic T-shirt bras and a more frou-frou one with lace. Bra sizes start at 30A and one of the styles even comes in a 38AA, an extremely hard to find size. T-shirt bras retail for $45- 48; lacey bra retails for $48. Matching panties and thongs are between $16 - 18 and come in sizes S, M and L.
About Lula Lu
Lula Lu, a lingerie boutique open since January 2005 in San Mateo, California is the only store of its kind in the U.S. to specialize in lingerie for petite women and offer them a wide selection of great fitting bras. Since 70% of women wear the wrong bra size, Shing offers a highly personalized bra fitting service. In addition, she shares her wealth of expert advice and insights with her customers, both in person and through her highly informative web site, LulaLu.com. Recently, Lula Lu was one of 100 lingerie stores selected for the "Shop Scouting World Wide" book, which was published after 6 years of researching and interviewing various types of lingerie stores. Lingerie brands available at Lula Lu include Wacoal Petite, On Gossamer, Princesse Tam Tam, Blush, Wendy Glez, Samantha Chang, Timpa, L. Z. and Eberjey.
Lula Lu is located at 212 E. 3rd Avenue, San Mateo, CA 94401. Store hours are Monday-Thursday from 11am to 6pm, Friday from 11am to 7pm and Saturday from 11am to 5pm. P 650-348-8858. Most styles can be purchased online at http://www.LulaLu.com.
Contact:
Leena Lim Leary
415-205-7094
leena(@)theprcafe.com
###