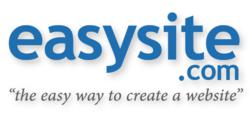 (PRWEB) March 22, 2013
Easysite.com has been in the website industry since 2005 helping individuals build personal or family type websites however now they are creating huge waves of success with their new small business website platform that has all the features any business owner could ever want. The best part about this platform is that business owners themselves can create a business website with a simple step-by-step process which even allows business owners to add social media buttons to a site with just a simple copy and paste function!
For business owners this means they never have to hire someone to do website design for their business again. Easysite prides itself in being one of the easiest ways to create small business websites for business owners -- sites that are not only social media friendly but search engine friendly as well.
Some of Easysite's small business features include unlimited hosting, photo galleries, HD video capability, an online store page, live video chat, forum, blogs, daily backups, etc. The list goes on and on. This makes Easysite a very attractive choice for any business owner to consider using Easysite not only because of its ease of use but also because they offer free email, video and telephone support if a business owner gets stuck! Easysite seems truly committed to helping business owners build websites while helping them avoid a web designer nightmare.
Currently Easysite offers two options for small business owners to create a website. Business owners can initially create a website themselves for free then only pay $19.95/month for unlimited hosting, email, phone and video support. The other option is for business owners that are always on the go and don't have time to create or redesign their own site. The custom "we build it" option is $995 upfront ($19.95/month afterwards). With this option, Easysites's team of professional web designers create everything from a custom look, color scheme and website headers. They will even add logos, pictures and content on the site as well. Easysite will also add any social media buttons the business owner may want.
Easysite is being recognized more and more each day as FOX and KillerStartups.com has already featured their company and taken note of how great of a resource they are for anyone looking to build, manage and update a website. Like the name says, Easysite is truly an easy way to create a website.