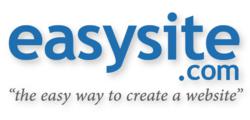 (PRWEB) March 23, 2013
As more and more small businesses go online, the demand increases for affordable and reliable ways to get small business websites up and running. Website design for businesses has skyrocketed over the last 36 months. Since Easysite.com has been in the "do it yourself" website business since 2005 Easysite decided to react to the inquiries they have received in regards to small business owners wanting to create a business website with a professional and reliable web team they can count on.
Easysite has now launched a new website option called "We-Build-It" which allows business owners to hire Easysite for only $995 to build a small business website which also includes logo design, social media integration, blogs, online stores, forums and so much more. This option is quickly becoming a popular choice for many start-up businesses or small business owners as it helps eliminate time and money wasted trying to hire a friend of a friend or a freelance person to build something that isn't very professional looking.
Once a business owner gets their website up and running, they can then start to use additional features on their website such as writing blogs to gain more traffic and search engine visibility. Easysite.com wants to let all potential customers know that blogs have been a great addition to the world wide web as search engines such as Google, Yahoo and Bing love to see websites adding unique and quality content to the web on a consistent basis.
Easysite has been featured on FOX and KillerStartUps.com which shows that they are starting to get the attention of the main stream. Any business owners that may want to look into the "We-Build-It" option should consider giving Easysite.com a call.