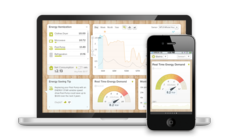 It's a fundamental change in the way people receive energy information.
Sunnyvale, CA and Vancouver, BC (PRWEB) January 23, 2013
Bidgely, a Khosla Venture funded Smart Grid energy analytics company, and Rainforest Automation, a developer of residential energy management products, jointly announced that the first internet energy monitoring solution to be validated by a California utility is now available to retail consumers in the state. The combination of Bidgely's innovative, cloud-based energy management platform and Rainforest`s internet-connected home energy gateway has been validated by PG&E to connect to its Smart Meters and offer consumer engagement features to residential consumers.
Following a directive from the California Public Utility Commission, PG&E launched its Home and Business Networking program last week, listing the Bidgely/Rainforest combination as one of its validated solutions. Residential consumers in PG&E territory can learn more about how to sign up for the solution by visiting http://www.bidgely.com/pge-rainforest.
"The promise of internet energy monitoring is finally a reality for average households," said Chris Tumpach, president of Rainforest Automation. "It's no longer just hobbyists and luxury homes using parasitic clamp-on devices to get approximate readings. Now everyone can get their real smart meter data to analyze their energy usage."
The EAGLE™ Energy Access Gateway Link to Ethernet product from Rainforest Automation is a simple and affordable gateway device that communicates directly with smart meters that have been equipped with ZigBee Smart Energy standard wireless capability. It is able to read the smart meter data, and stream the real-time energy information to the home Ethernet network and on to the internet. The EAGLE™ is available from Amazon.com, and from the Rainforest Automation online store, at the retail price of $99.99.
Bidgely's energy management platform incorporates a patent-pending, real-time Appliance Tracing™ capability that itemizes smart meter data down to appliance level. These insights uniquely enable consumers to make informed decisions with actionable insights and recommendations leading to savings on their energy bills. Notable in its non-intrusive, software-based approach, Bidgely's platform relies solely on already installed utility smart meters and standards-based home area network gateways, like the EAGLE™. Web and mobile apps allow consumers to access their energy data anytime anywhere on any smartphone, computer or tablet.
"PG&E's HAN validation is just a beginning for us," said Abhay Gupta, Co-founder and Chief Executive Officer of Bidgely. "The cloud based Smart Grid solution brings a fundamental change in the way people receive their energy information, enabling them to take control of their energy spend even when not at home. The solution is compatible with the ZigBee SEP/1.x standard and is being tested by several utilities across the world. With its ZigBee Smart Energy expertise and a device (EAGLE™) compatible with simple RESTful Application Programming Interfaces (APIs), Rainforest Automation has been a great partner, enabling real-time cloud based energy management."
The Bidgely/Rainforest solution incorporates layers of security for data in transit and data at rest. Device authentication and data encryption techniques ensure that consumer data remains secure.
About Bidgely:
Bidgely's goal is to create a new paradigm in residential energy management with real-time Appliance Tracing™ - a patent-pending technology that is designed to learn and analyze energy data from millions of homes and generate appliance-level insights. These insights enable utilities to realize increased energy and demand reduction through enhanced consumer engagement and effective utility operations. Bidgely's web and mobile apps not only eliminate the need for a dedicated in-home display screen in the house, but also make it convenient for consumers to access their information and receive real-time alerts whether at home or outside. Incorporated in January 2011 and privately held, Bidgely is headquartered in Silicon Valley. For more information, please visit: http://www.bidgely.com.
About Rainforest Automation:
Rainforest Automation, Inc. makes products that allow utilities and homeowners to manage residential energy usage. Our primary product focus is on the ZigBee wireless HAN (Home Area Network), and connecting the smart meter data stream to the home and the cloud. Our open, standards-based devices enable "plug and play" access to the smart meter data stream – not only for utilities and end consumers, but also for third-parties, such as suppliers of home automation equipment, home energy management system makers, and providers of value-added cloud services. The company is based in Vancouver, BC. For more information, visit: http://www.rainforestautomation.com.